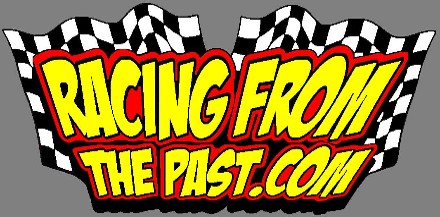 Preserving the past in and around Kansas since July of 2000 from our WORLD HEADQUARTERS IN MCPHERSON, KANSAS.




Memorial Page

LAP #3 of the J-M names in memory.

More Memorials in our Racing From The Past Forum by clicking this link http://www.hoseheadforums.com/forum.cfm?threadID=6110&CFID=2217507&CFTOKEN=17010156 You can post your memorials and add photos also.

Other Names In Memory

Lap #1 A-E
Lap #2 F-I
Lap #4 N-R
Lap #5 S-Z



They gave us laps of excitement. They are gone but not forgotten. In memory of the ones that thrilled us.

"I know a speedway in the sky where brave young drivers thunder by and all who live this racing game must know that fate may call their name"


Contributed by Grace Sheldon.



You ask me why I do this, I can not tell you why. It sends my blood singing thru my veins and shoots my heart like a rocket across the sky. Its like an uncontrollable fire, breathing out love, hate and fear, exalting me to the heights of glory, throwing me to the depths of despair.

You ask me why I do this, put my life out on the line, because I know come what may, I'll not go until its time. I've hung it out on the ragged edge and at times looked into a chasm of fear, I've lost dear friends and fellow drivers, but when the green flag falls, I know I'll be there.

You ask me why I do this, this crazy thing of mine-I only know I can not quit, can not quit until its time. It gets into your blood so bad, its like a fever, and if you step one foot across my line, you won't be able to shake it either.

I've had my highs and lows and many times wanted to throw it all away, but I know come tomorrow, whenever this dream leads me, I'll be on my way.



Martha Suggs





For more pages return to the Home Page.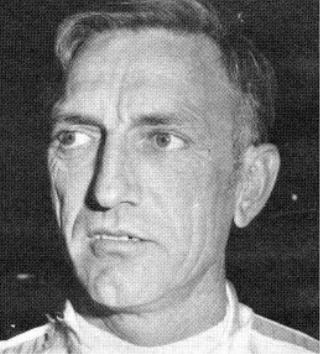 Darrell Jennings(#801): (1935-1995)
60, Norman, OK Jennings died Sunday, December 10 at Norman Regional Hospital after a lengthy and inspirational battle with cancer. He was born July 24, 1935, to Luther and Onie Jennings at Noble.
Darrell Jennings #801, a longtime Oklahoma City race car driver. Just one of a few sports page articles about Darrell. It seemed to take more time than effort for Darrell Jennings of Norman to win his first champ car A feature of the year Friday night at Fairgrounds Speedway. The Daily Oklahoman 6/9/84.
But then like most racers, there were articles like this one. Exactly one year ago, Darrell Jennings suffered a serious crash, his car hitting a light pole head-on coming out of a turn. The Daily Oklahoman Date: 07/14/1984.
Photo #433

Charles "Rayme" Johnson: (1964-1994) from Miller, MO. July 22, 1994 Less than a week after the birth of his first child, Johnson died when his race car went airborne and landed upside down on a wall at Speedway U.S.A. in Bolivar, MO.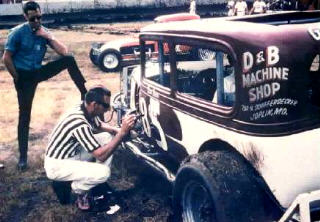 Photo contributed by David Johnson.
Darrell Johnson: 1929-1996: Neosho MO
Darrell owned race cars that ran throughout the Missouri, Kansas and Oklahoma area.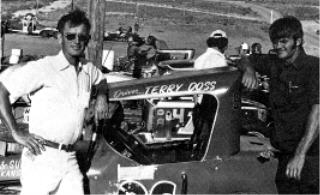 Photo from the Jack Ward's 1977 NCRA Yearbook.
Gene Jones(R) and Don Doss shown with the #96 that Terry Doss drove.
Gene Jones: (?-1990)
Gene owned supers driven by Bobby Walker, Terry Doss, Jay Woodside, Dale Reed, Terry Doss and others to many victories.
Photo #485

Gerald "Bub" Kearney: (1941-2004) Valley Falls, KS
"Bub" Gerald F. Kearney passed away while watching his son John race at Knoxville Raceway in Knoxville, IA July 10th.
In the past 30 or more years, Bub was involved in racing sprint cars. He and his son traveled throughout the region to various racing venues. He was the owner and took an active part in the maintenance of the cars his son raced.

Brandon Kelley: (?-2003)
Non racing accident.
Brandon was a 22 year old 360 Sprint Car racer out of the Tulsa area. Brandon was the grandson of Phil Oakes.

Danny Krueger: (?-1968)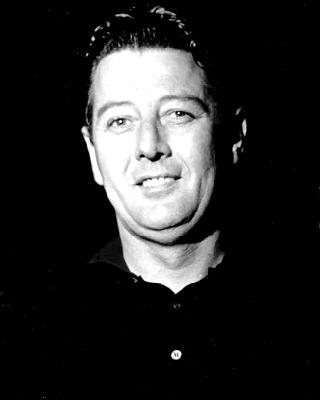 Photo contributed by Rick Patterson.
Bobby Laden: Oklahoma City OK. (Unknown date of death) Bobby was runnerup in points at OKC in 1961.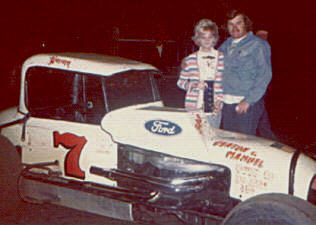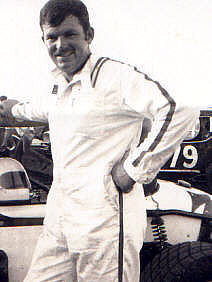 Photo courtesy from J.D. & Jannie Porter.
Jimmy Lancaster: Ada OK (1948-1977) Jimmy left us in an auto accident. Jimmy ran mainly at Ada and Goldsby from around 68-74.
Photo #230 & the B/W#324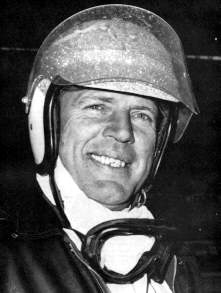 Photo from the 1977 Jerry Weld Memorial Program.
Jud Larson: (1923-1966)
We lost Jud Larson at Reading, PA in a 1966 crash that claimed Red Riegel as well.

Roger Larson: (1940-1979) Roger was living in Sioux Falls SD and had been for sometime, but had lived in the Soloman KS area. Roger was killed along with Darrel Dawley in the same accident at Knoxville IA.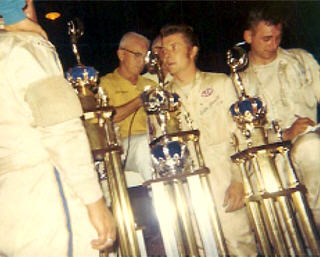 Photo #914, 1971 Knoxville Nationals Champion.
Edward "Eddie" Richard Leavitt Sr: 1942-2003, Independence, MO (formerly of Kearney, MO)
Eddie was inducted into the National Sprint Car Hall of Fame in 2001 and was in the Knoxville Raceway Hall of Fame. He was a 2-time Knoxville Nationals Sprint Car Champion.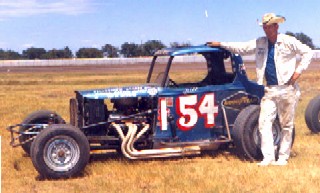 William Raymond "Bill" Lewis: (1936-2003)
Bill was a veteran of the OKC Fairgrounds Speedway and area racing in the 60's and early 70's.
Bill's Guestbook in at Legacy.Com

C.E "Bud Lindstrom: (1931-2000) Bud was a veteran and top contender of the OKC and area racing in the 60's and early 70's. Born in Clearwater, KS.

Clyde "Hap" L Looney: (1936-2003) Wichita, KS
Hap was one of the pioneers of the super modified era in the Kansas area.

Wayne McCarthy (1952-1994): June 5, 1994, Wayne was dueling for the lead in a stock car heat at Speedway U.S.A. in Bolivar, Mo., when his car spun and slammed into a concrete retaining wall. The drilling contractor from Tahlequah, OK.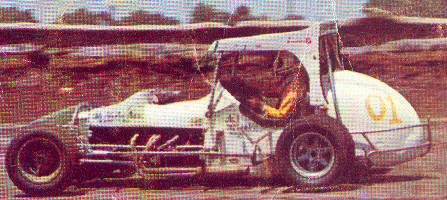 Photo from the 1975 NCRA Yearbook.
Aaron Madden: Oklahoma City OK. Aaron will go down as one of the greats from the OKC area.
Photo #228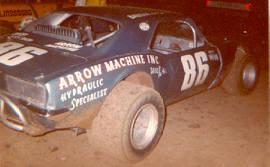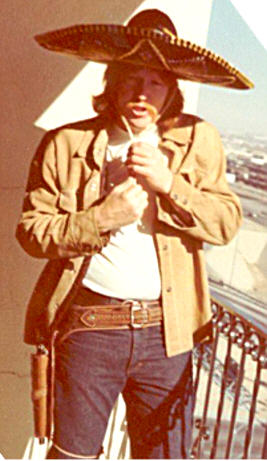 Bill "Wild Bill" Main: (1943-1977) Hutchinson, KS. Cut short by a Tragic Murder.
Photo#239 & Wild Bill #326

Richard Massey: (1943-1995) Hutchinson KS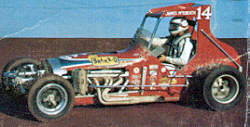 Photo from the 1975 NCRA.
James McElreath: Arlington, TX (1954-1977)
Photo #229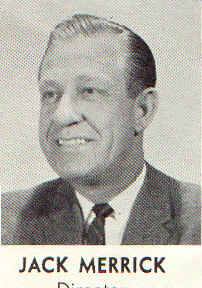 Photo from the 1974 Hutchinson Nationals Program.
Jack Merrick: (1914-1977) Dodge City, KS. Jack was the promoter of the Merrick Racing Circuit. Which included Dodge City, and Liberal KS, and the Hutchinson Nationals, and the Kansas State Fair races, among other races.
Photo #223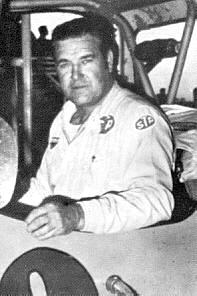 Photo from the 1974 NCRA Yearbook.
Photo #329
Charles Oliver "Shady" McWhorter: (1928-1995) North Richland Hills, TX.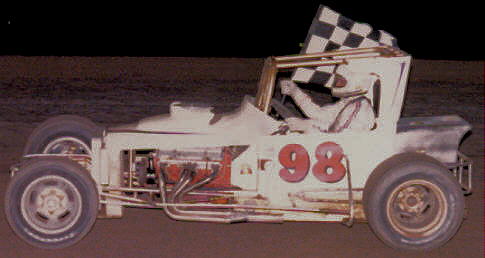 Walt McWhorter (1934-1992 from Wichita, KS
Walt's racing career dated back to 1951. Walt was the king of 81 Speedway in Wichita, with 4 track championships up to 1980, and 3 2nd places, and 3 3rd places. Walt was the UMCA Sprint Car Champion in 55 and 56. Walt was the CKRA champion in 58,59,61 and 62. Walt's best NCRA finish in the 70's was 4th in 1975.
Photo #219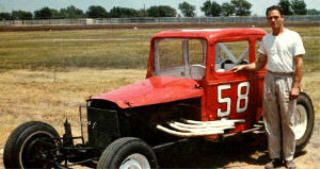 Photo #442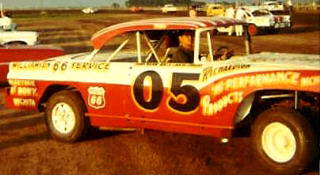 Photo #443
Both photos Contributed by Bob Lawrence/Mel's daughter Debra.
Melvin Leland "Mel" Montgomery: 1932-2002, Wichita, KS. Mel was a fantastic guy both on and off the track, and though he loved racing, his mind was always busy solving many other problems of friends and family, not to mention some of those of the Beech Aircraft Company where he worked for many years. (words sent by a viewer of this site.)
Editors note: My memories of Mel were mainly From Great Bend KS. The John Hebb owned #05. The red & white candy stripe Ford. Mel also drove for Dan Irskin in the #16 Maverick at Great Bend and around Kansas. Mel also drove some for Steve Dunsworth from Hutch.
Mel had many fans in the Wichita area. Mel was an 81 Speedway veteran of many years.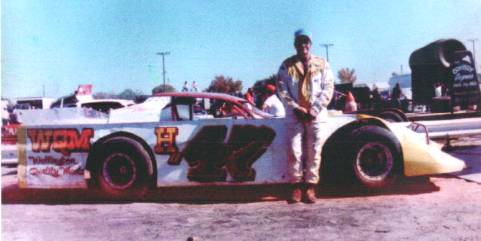 Kenny Moore: (1936-1990) Winfield, KS
One of the legends of 81 Speedway and the area. Kenny died of a heart attack while racing at The Enid Speedway in the 1990 Edition of the Winter Nationals.
Click Here for some earlier photos of Kenny at Bob Lawrence's site about Racing At The Cowley County Fairgrounds.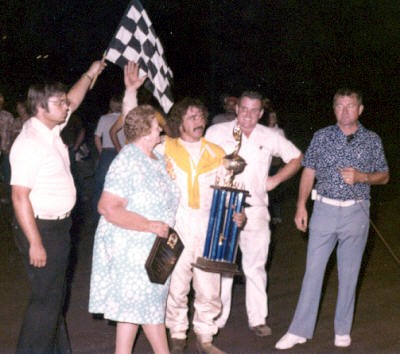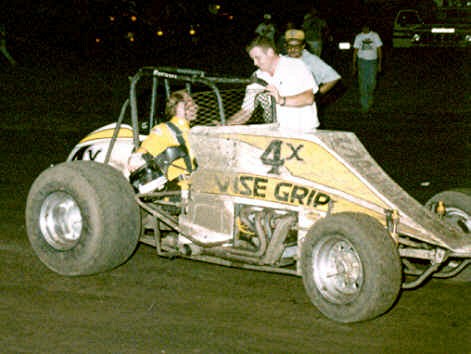 Gary E. Mussatto: (1940-2002)
Osage City, KS
On the left is Gary (in white shirt and pants) in victory lane at Topeka and the JayHawk Nationals as the promoter with Charlie Swartz. On the right is Gary congratulating Doug Wolfgang at another Jayhawk Nationals.



Lap #4 Click for Lap #4 of the N-R names in Memory




For more pages check the Home Page.





Notice: Although I give credit to the person who contributed the photos for Racing From The Past. Twenty + years is a long time. There were many Photographers around the area. Many of the photos on this website may have been taken by some of the following and this is a blanket type credit to the many photographers. Ivan Brown, Don Clum, Van Cook, Mike Cornelson, Jim DeJarnette, Cecil Dougan, Lennel Fields, Bill Gay, Ken Greteman, Marvin Hutson, C.R. Kendall, Jerry Leep, Earl Mahoney, Tim Malone, Ted McCord, Pat Rigsby, and Chuck Sterling. Without these guys this website wouldn't be as complete as it is.