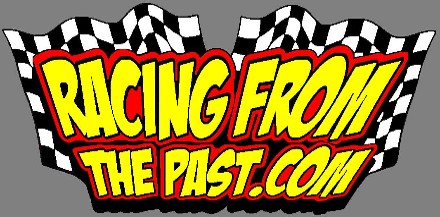 Preserving the past in and around Kansas since July of 2000 from our WORLD HEADQUARTERS IN MCPHERSON, KANSAS.


Memorial Pages

Lap #2 of the F-I names in memory.

More Memorials in our Racing From The Past Forum by clicking this link http://www.hoseheadforums.com/forum.cfm?threadID=6110&CFID=2217507&CFTOKEN=17010156 You can post your memorials and add photos also.


Lap #1 A-E

Lap#3 J-M

Lap#4 N-R

Lap #5 S-Z




They gave us laps of excitement. They are gone but not forgotten. In memory of the ones that thrilled us.

"I know a speedway in the sky where brave young drivers thunder by and all who live this racing game must know that fate may call their name"


Contributed by Grace Sheldon



You ask me why I do this, I can not tell you why. It sends my blood singing thru my veins and shoots my heart like a rocket across the sky. Its like an uncontrollable fire, breathing out love, hate and fear, exalting me to the heights of glory, throwing me to the depths of despair.

You ask me why I do this, put my life out on the line, because I know come what may, I'll not go until its time. I've hung it out on the ragged edge and at times looked into a chasm of fear, I've lost dear friends and fellow drivers, but when the green flag falls, I know I'll be there.

You ask me why I do this, this crazy thing of mine-I only know I can not quit, can not quit until its time. It gets into your blood so bad, its like a fever, and if you step one foot across my line, you won't be able to shake it either.

I've had my highs and lows and many times wanted to throw it all away, but I know come tomorrow, whenever this dream leads me, I'll be on my way.



Martha Suggs





<!IMG SRC=""> For a complete list of pages return to the Home Page.



Alvin Burl "Cotton" Farmer: (1928-2004) Burleson, Texas
Cotton is a member of the National Sprint Car Hall of Fame.

Carl Ferguson: ( ) Oklahoma City OK, 1962,1965 Oklahoma City track champion, and 2nd in points in 1964.

James Shannon Finley:(1947-1991) April 27, 1991
James, a Navy veteran who lost part of his right leg in Vietnam, raced in a car with a specially designed accelerator. The St. Louis resident died in a five-car crash at Tri-City Speedway in Granite City, Il.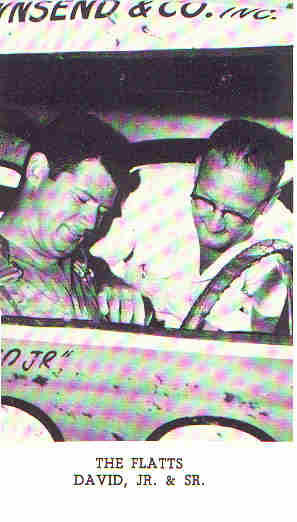 Photo from 1972 NCRA yearbook
David Flatt JR: (1940-1992) Bethany, OK. David's racing career was very distinguished. He was Rookie of the Year under Mar-Car Racing in 1959 and had 5 championships to his credit, numerous Driver Of The Year awards at the State Fair Speedway and top ten 2 years out of 3 in Pro Stock

David Flatt SR: (1921-1994)
Photo #244

Ralph "RED" Foley: (1914-1994)The locals at OKC referred to him as the "Grandfather of Racing". He was born April 23, 1914 in Ottumwa, Iowa. He graduated from Putnam City High School in 1935. Through the course of his life, he worked at Bailey Food, Clements Food and, at the time of his death, he was semi-retired at George Townsend Co. Red was a former Mar-Car auto racer. He raced locally in OKC and also all around Oklahoma.

Wilford "Will" Forrest: (1920-1990) Wichita KS. Will was the Hutchinson Jalopy Champion in 1959, and won many races throughout Kansas and Oklahoma.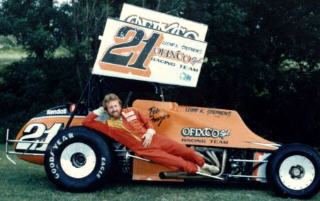 Pete Frazier: (1957-2000)
Broken Arrow, OK (racing accident)
Photo #447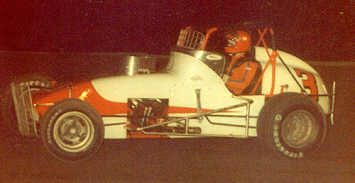 Jeff Forshee: (1957-1994) Wichita, KS (Highway accident)
Photo #247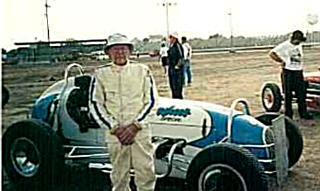 Photo contributed by Scotty Anderson
Ernest "Red" Forshee: (1916-2002) Wichita KS.
Red drove some in his early years, but was known for being a car owner of Jalopies in the 50's and the owner of the Forshee Plumbing Sprint Car in the 60's and early 70's.
Photo #441

Jerry Gilbert: (?-?) #19

Floyd "Babe" Gordon: (1925-1989)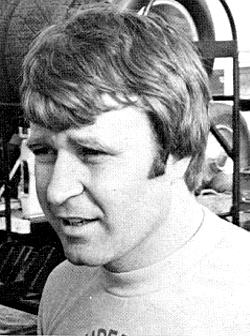 Bobby Joe Gray: (1945-2002)
His lifetime career was as a manufacturing engineer, working for Bell Helicopter, Boeing and LTV. He was a lifelong racing enthusiast in the Amarillo area and was a veteran, serving in the Army. His first year in racing was 1968.
Click Here to view Bobby's Obituary.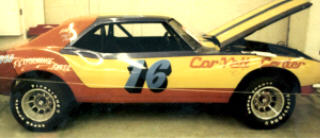 Charles "Charlie" Gunter: (1945-2003)
Charlie Worked at Tinker Air Force Base as the Air Force's Liaison for the Navy engine production program.
He Raced street stocks in OKC in mid 70's. (Cor Vett Center sponsored 68 Camaro #16 posted above).
He Drove the Cor Vett Center pace car at the OKC Fairgrounds Speedway during the early to mid 80's (Larry Hill era)

Bud Haehn: (1935-1993)Wichita, KS; (Ed. note: my first
memories of Bud were in the middle 60's at Mohawk
Speedway, in Hutchinson Ks. when he drove the
blue #69 Hudson. There were several drivers in Hudson
for a couple of years at Mohawk.

Photo #241


Photo from the Charles Cummins collection.
Here's The car he drove probably in the 71/72 seasons?
I remember he towed to Great Bend Ks. for the Sunday
night races, and was always in the top ten.
This car had air tanks behind the seat, to adjust the
shocks. Bud could adjust the car during a race. I had
never seen these before. This car and the #81 Bill Mills
drove were my favorites in the early 70's
Photo #242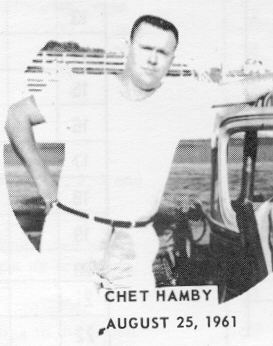 Photo from the 1977 Jerry Weld Memorial Program.
Chester "Chet" Hamby: (?-1961)
Chet was killed at the Topeka Fairgrounds Raceway in a sprint car race.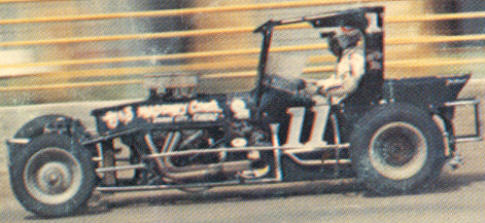 Photo from 1974 NCRA year book.
Jim Harkness: (1947-1976) from Ness City, KS (highway accident). Check out the Hutch Nationals pages for more on Jim.
Photo #221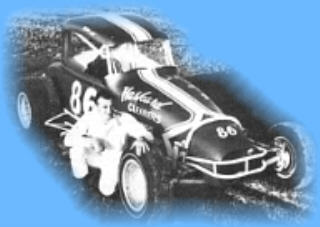 Herbert "Pat" Haskard: (1916-1991) Hutchinson KS. Pat owned the Haskard Cleaners Special #86 super in the 60's, that Jay Schrock drove. In the photo above, that is Jay Schrock from Hutchinson.
Photo #462

Gerald R. "Jerry" Hayes: (1929-1994) Topeka, KS.
He was a local favorite on the Sprint Car Tracks, and had been an avid driver and fan all of his adult life. He was an Old Timer at the Knoxville Iowa Raceway and was inducted into the Hall of Fame in 1988.
Jerry was a Iron Worker retiring in 1984

William Ray "Bill" Head: (-?2003) Kansas City
Bill flagged in the days when a flagman showed some excitement and action, jumping and waving with those flags from the ground.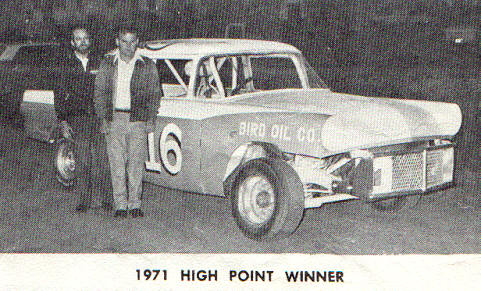 photo from the 1972 Golden Belt Speedway Program.
Richard "Dick" Hendershot: (1926-1976) From Hutchinson KS (racing accident). He drove supers up until 1970, after that he won numerous track championships in late models in central, and western KS.
Photo #232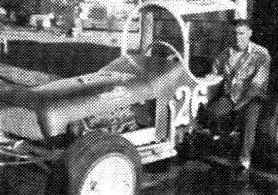 Photo from the 1964 Mohawk Speedway Program.
Here's Dick Hendershot in the early years 1963.
Photo #233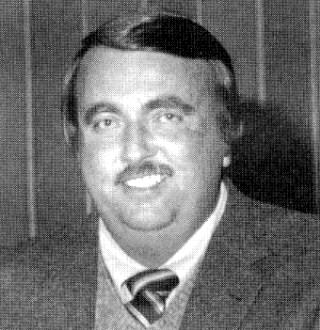 Larry Hill:(-2001) Larry was a promoter at Oklahoma City from 1980 through 1986. Larry was also a car owner. The #24 with Thad Dosher aboard at Topeka was probably one of Larry Hill's first Champ Dirt Cars (probably 77 or 78) they ran with USAC some. This was partership with Larry Boykin I think? Later Larry also team with Bub Kearney from Kansas.
Photo #444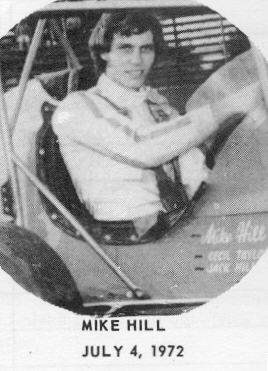 Photo from the 1977 Jerry Weld Memorial Program.
Mike Hill: (?-1972)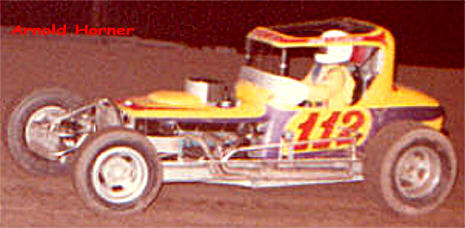 Arnold Horner (1938-1979 from Jetmore KS (RACING ACCIDENT)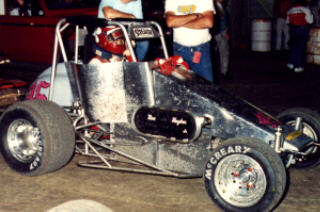 Photo shot & contributed by Rudy Garcia.
Ron Hughes Jr.: (1962-1990)
A 1984 racing accident had left Ron, of Houston, paralyzed from the waist down. Driving a specially designed car with hand controls, he won the state midget class championship in Texas in 1987, 1988 and 1989. He was killed in a crash at Devil's Bowl Speedway near Dallas.
Photo #526

Paul Thomas "Tom" Humphrey: (?-2002)
Oklahoma City, OK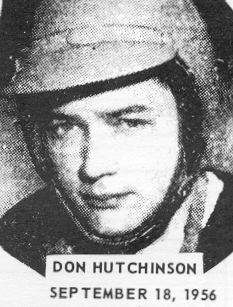 Photo from the Jerry Weld Memorial Program.
Don Hutchinson:(?-1956)
Don was killed at my home track at the Kansas State Fairgrounds in Hutchinson, KS in an IMCA Sprint Car Race.
Don and A.J. Foyt made contact and Don was killed and AJ spent the night in the Hutchinson Hospital with head injuries.
#84 flat track motorcycle racer also.

Bob Hutton: Oklahoma City OK, Bob Passed away Oct. 20, 2000. Bob ran Taft Stadium and the Oklahoma Fairgrounds Speedway in Oklahoma City in the late 50's through the early 70's.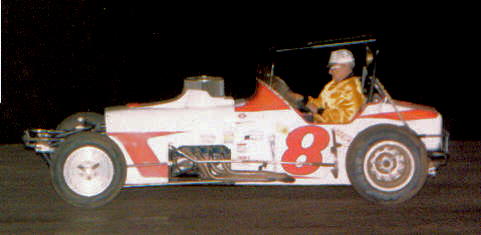 Evart Isaac: (1906-1999)Dodge City, KS. He was the owner of the famed 6 & 8 race team during the 60's and 70's.
Photo #225



Lap #3 Click for Lap #3 of the J-M names in memory




For more pages check the Home Page.



Notice: Although I give credit to the person who contributed the photos for Racing From The Past. Twenty + years is a long time. There were many Photographers around the area. Many of the photos on this website may have been taken by some of the following and this is a blanket type credit to the many photographers. Ivan Brown, Don Clum, Van Cook, Mike Cornelson, Jim DeJarnette, Cecil Dougan, Lennel Fields, Bill Gay, Ken Greteman, Marvin Hutson, C.R. Kendall, Jerry Leep, Earl Mahoney, Tim Malone, Ted McCord, Pat Rigsby, and Chuck Sterling. Without these guys this website wouldn't be as complete as it is.