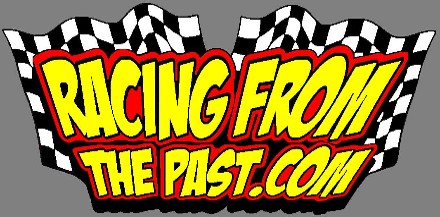 Preserving the past in and around Kansas since July of 2000 from our WORLD HEADQUARTERS IN MCPHERSON, KANSAS.

Memorial Pages

Lap # 1 of the A-E names in memory.

More Memorials in our Racing From The Past Forum by clicking this link http://www.hoseheadforums.com/forum.cfm?threadID=6110&CFID=2217507&CFTOKEN=17010156 You can post your memorials and add photos also.

Jump ahead to other pages.

Lap #2 F-I
Lap #3 J-M
Lap #4 N-R
Lap #5 S-Z



They gave us laps of excitement. They are gone but not forgotten. In memory of the ones that thrilled us.

"I know a speedway in the sky where brave young drivers thunder by and all who live this racing game must know that fate may call their name"
Contributed by Grace Sheldon.


You ask me why I do this, I can not tell you why. It sends my blood singing thru my veins and shoots my heart like a rocket across the sky. Its like an uncontrollable fire, breathing out love, hate and fear, exalting me to the heights of glory, throwing me to the depths of despair.

You ask me why I do this, put my life out on the line, because I know come what may, I'll not go until its time. I've hung it out on the ragged edge and at times looked into a chasm of fear, I've lost dear friends and fellow drivers, but when the green flag falls, I know I'll be there.

You ask me why I do this, this crazy thing of mine-I only know I can not quit, can not quit until its time. It gets into your blood so bad, its like a fever, and if you step one foot across my line, you won't be able to shake it either.

I've had my highs and lows and many times wanted to throw it all away, but I know come tomorrow, whenever this dream leads me, I'll be on my way.



Martha Suggs







For more pages at Racing From The Past check the Home Page.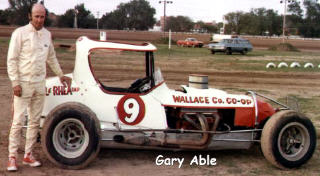 Photo contributed by Garry's former car owner Dick Rhea.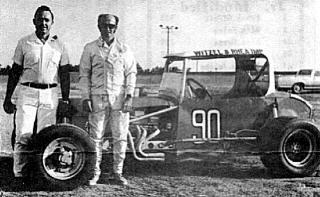 Photo from the Kansas Northwest Racing News and Clarence Zimmerman. Garry (r) with car owner Dick Rhea. This car is still active with the KAR's and owner Scotty Anderson.
Garry K. Abell 1937-2002, Beloit, KS
Garry was born April 16, 1937, at Tescott. He was a truck driver.
Survivors include his wife, Charlene of Beloit; a son, Kurt of Beloit; two daughters, Sherri Streit and Alice Overmiller, both of Beloit; two brothers, Phil of Salina and Bob of Barnard; two sisters, Margaret Pistora of Salina and Peggy Thomason of Dickson, Tenn.; and two grandchildren.
Memorials may be made in memory of Garry Abell to the Solomon Valley Hospice.

Harold "Gene" Angel: #76 Hutchinson, Ks.(1933-1966) Highway accident.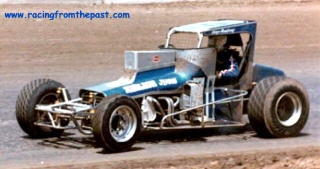 George Armstrong:1940-2002 from Sands Springs, OK. George was the 1979 Tulsa Speedway Champion, and known for his hard charging driving style.

Michael David Baker (1958-1995): July 22, 1995, Michael, a construction worker from Sabetha, KS, died walking to a concession stand at I-30 Speedway in Little Rock, AR, when a tire from a track accident struck him on the head.

Fern Barragree: (1923-1986)Great Bend KS. Fern along with Vernie promoted races at Hutchinson & Great Bend Kansas.

Vernie Barragree: (1912-1994)Great Bend, KS. Vernie along with his wife Fern promoted races in Hutchinson & Great Bend, Kansas.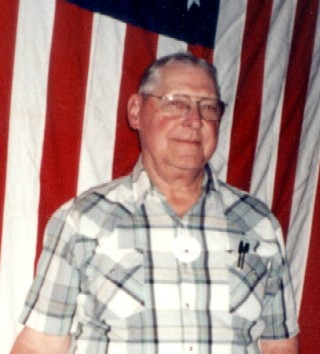 Wesley C. "Wes" Bartlett: Hutchinson, Kansas (1923-2000).
Wes died of complications from a massive stroke he suffered on December 16, 2000. Wes was a car owner from 1956 to 1961. His familiar black and yellow #98 was driven by Todd White, Wayne Harbold and Red Siems. Henry Ellington once said, "I wish I could have driven for Wes, he paid his drivers five dollars a night whether they won anything or not. Back then five dollars went a long way." Wes was an innovator of sorts. He wanted to be able to see where the family was sitting in the stands, and his wife wanted to be able to see the crew in the pits. So black shirts with a yellow 98 embroidered on the back and above the pocket along with khaki pants, were the uniform everyone wore on race day. Many drivers and pit crews adopted Wes' idea. His wife Edith, and four sons, Wes, Les, Bill, and Ed survive along with 7 grand children and 1 great grand child.

Travis Beaufeaux (1971-2000): August 5, 2000 Travis from Midwest City, Okla., was tightening lug nuts on a stock car between races at Oklahoma's State Fair Speedway when the car accidentally was put in gear. A wrench struck the Navy veteran in the head.

Orville Beckel: (1925-1974) Wichita, KS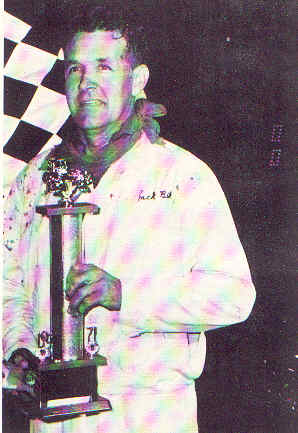 Jack Belk
Photo from the 1972 NCRA yearbook
Photo #246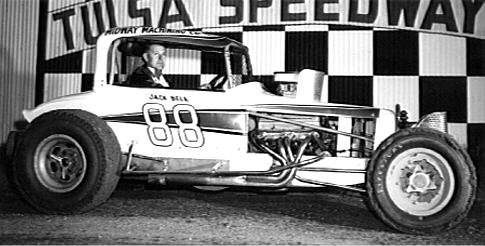 Photo contributed by David Johnson.
Jack Belk in the Darrell Johnson #88
Photo #413
Jack Belk: (1926-1971) Joplin, MO (RACING ACCIDENT)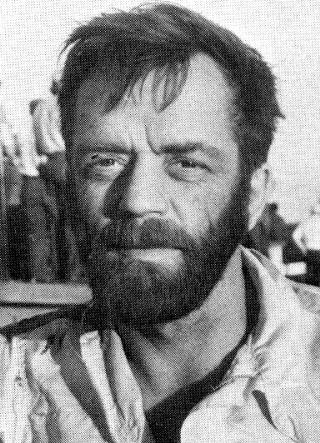 Photo from an NCRA Yearbook
Don Bergman:1937-1997 from Amarillo Tx. Don was veteran of the Amarillo dirt track wars. His 1st year in was 1959. With some of his better years being a 2nd in point sin 1971 and 3rd in 1976.
Photo #446

Ron Biellier:(1949-1994) July 15, 1994 Ron, from Willard, MO, was racing for the first time since a heart attack one year earlier. During a caution at Missouri's Speedway U.S.A., Biellier had another heart attack, this one fatal.

Buck Bockholt: (1918-1999) Arkansas.
Buck raced in the NW Arkansas area in the 50's and 60's.

Karl Bolton: (?-1994) Tulsa, OK
Karl received injuries in July 1966. He lived 28 years as a Quadrapeligic from those injuries.
Karl was smiling down at the family in the 2004. His son Keith finished 2nd in 360 Sprint Points and his grandson Shane Pace (son of Gary Pace) won the 360 Sprint Points Championship, both at Creek County Speedway.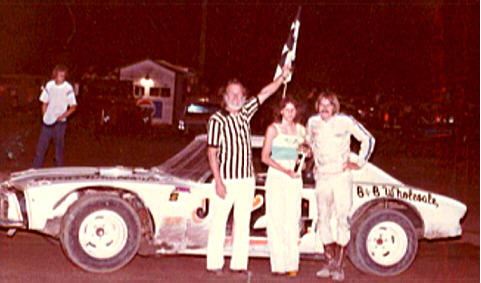 Photo contributed by Donavan Kreie.
Ron Borecky: (1954-2001) Ron left us on 9/26/2001. Ron was a regular in the hobby cars in the 70's driving #124, and 1/2 of the A&B Motors Racing Team with brother Ed.
Photo #327

Darrell Boyd: (1946-2001) June 9, 2001
Darrell collapsed in the pits minutes after practice at St. Francois County Raceway.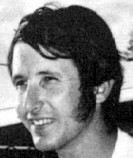 Ronnie Dean Brotherton: (1942-2003)Oklahoma City, OK
Ronnie was the owner and operator of Brotherton Automotive and tinkered with Model A's in his spare time. He was also a member of the Oklahoma Racing Association-300 Club and won the 1/4 mile championship in 1968.

Grady O Burks: #401 (1938-1999) Oklahoma City OK.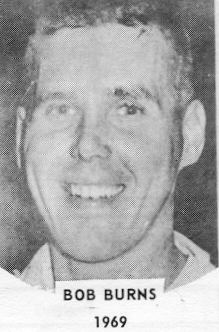 Photo from the Jerry Weld Memorial Program 1977.
Bob Burns: (?-1969)

Vito Caglia: (?-?) Kansas City area.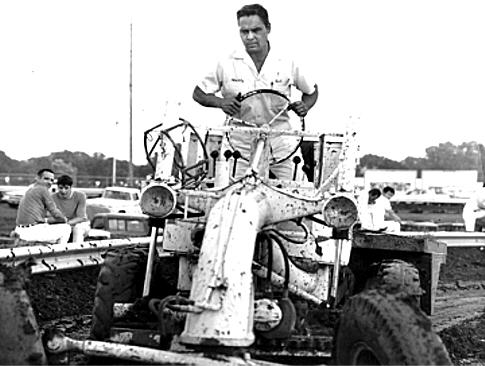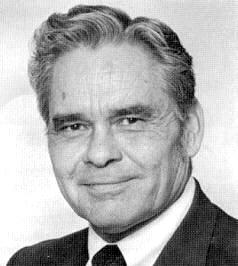 Photo contributed by Shane Carson/MARCAR collection.
Bud Carson: (1927-1991) Oklahoma City, OK.
Bud Carson's reputation of making things work when the situation seemed impossible. This is probably why Bud was running the grader when this photo was taken. Looks like the track may have got a little wet from rain. Bud was the oustanding promoter at the Oklahoma State Fair Speedway from the late 50's into the 70's, with a return as Director of Racing at the OKC Fairgrounds in 1986 until 1991. Bud and MARCAR promoted various types of racing. Bud was the 1st President of the NCRA and very instrumental in the forming and its growth and success. NCRA still exists in 2002 because of Bud and the founding fathers idea of an association for open-wheel racing.
Photo #436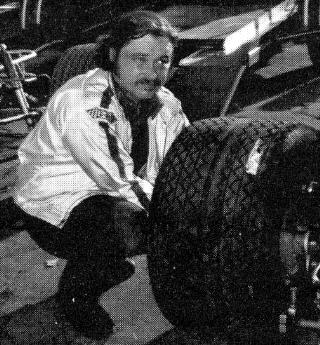 1974 NCRA Yearbook
#10 Scott R. Carson: 1947-1998
Scott son of promoter Bud, grew up along with younger brother Shane with probably one thing in mind, and that was I'm going to be a race car driver. I'm thinking 73 & 74 were Scott's best years in supermodifieds racing. He jump into the super in 73 that Harold Leep ran and retired from in mid season, and won several races. Seems like if Scott wasn't winning or at least up front he was crashing. That's is probably why some nicknamed him "Crash Carson"
Photo #437

Bill Chennault: (?-?) Kansas City area.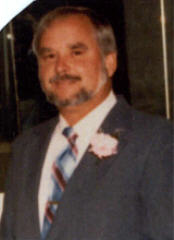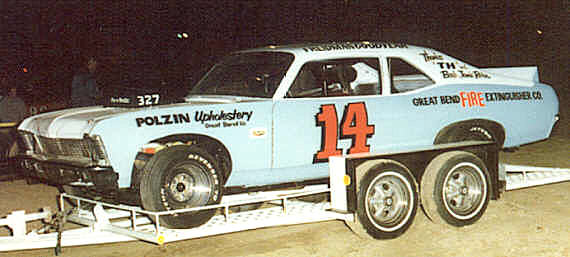 Jimmy "Jim" Ray Clawson: (1946-1989) Nicknamed "The Happy Hooker" from Pawnee Rock Kansas. Jim was taken from us by Leukemia.

Jerry Collins: (1928-1985) Hutchinson, KS

Clarence (Todd) L. Coker: (1931-2001) Born May 20, 1931. son of Lem Z. Coker and Manola Mae Beck Coker, died suddenly January 1, 2001.Todd was a successful and popular race car driver in the 1960's and 1970's winning many races throughout the Southwest in the super modified and champ car divisions.

Dick Colvin: (?-2003)
Dick promoted races at The Tulsa Speedway in th early 60's.

Mike Connors: (1942-1974) Enid OK. Mike was the flagman at Enid Speedway at the Garfield County Fairgrounds. Mike was killed performing his duties has the flagman.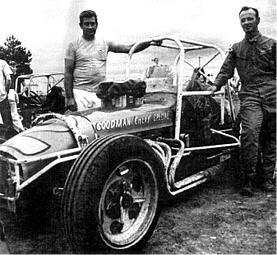 Oren Covert: 1940-2002, Silver Lake KS. Oren was one of Topeka's veterans as a driver,owner,fan and supporter. One of Topeka's finest in the racing community.
CLICK HERE for Oren's obit in the Topeka Capital Journal.
Photo #431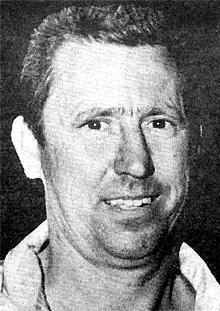 Wilford "Willie" Crane: (1924-2004)
Wilford "Willie" Crane, 79, passed away Jan. 29 in his home with Wanda, his wife of 58 years, by his side. Willie was born Feb. 15, 1924, in Graydon Springs, Mo. He was preceded in death by his parents, three brothers, and one sister.
Willie was a popular race car driver for 32 years. He won championships and other awards throughout his career . He was the first inductee into the Legends category of the Ozarks Area Racers Hall of Fame.
He had many friends and fans, the biggest fans being his children!
Survivors include his children, Judi Crane and Glenn Mikol, Vicky and Dan Cunningham, Michael Crane, and Kathy and Ross Rountree; four grandchildren; three great-grandchildren; one brother, Billy Crane; one sister, Virginia and Eddy Linebarger; sister-in-Iaw Juanita Crane; and many nieces and nephews.
He retired from Don Wessel Oldsmobile in 1989. He enjoyed traveling to NASCAR races and with Movin' On tours.

JD Cox: (1928-1968) Wichita, KS

Buddy Cumley: (1938-1994) Buddy bought the Nance owned car #999 and it became #333 purple and white in color. It was driven by many of the top drivers from around here such as Dale Reed, Jerry Everhart, Grady Wade and many others.




Photo contributed by Monte Cole.
Photo from the Tulsa Speedway Program 1977 Volume #5
Gene Daniel: (???) Tulsa OK, Racing accident.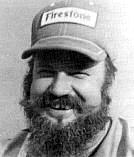 Phil Davis: (?-2002) Tulsa,OK
Long-time Tulsa official and past NCRA official. Phil passed away after a short illness. Phil was 63. The funeral was held at the Tulsa Speedway.

Carl Davis: (1918-1997)
Mr. Davis was born in Broken Bow, Okla., and had lived in Amarillo most of his life.
He was a Navy veteran of World War II. He was a bus driver for Greyhound and retired after 30 years of service. He ran for city commissioner several years ago. He had raced cars at the Amarillo Speedbowl.
Mr. Davis married Jo Settle in 1970 at Claude.
Survivors include his wife; six daughters, Carla Sanders and Jerry Phillips, both of Amarillo, Gloria Miller Cherna of Dallas, Irene Tate of Tulsa, Okla., Anna Paschal of Denison and Ruthie Kerr of Grand Prairie; two sisters, Helen McKinney and Juanita Cleaver, both of Amarillo; three brothers, Dub Davis and Myrle Davis, both of Amarillo, and Ray Davis of Arlington; 15 grandchildren; and 26 greatgrandchildren.




Terry Deatherage: (1942- 1998) Wichita KS/Wichita Falls TX
Photo #240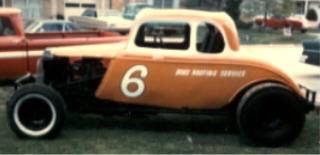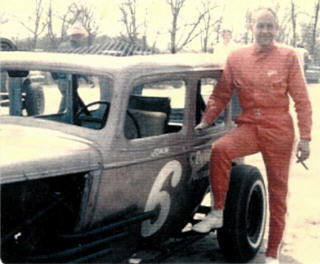 John Deveny: (1931-1998)Oklahoma City, OK.
"Big" John Deveny has fans called him. John raced at OKC and Ada in the 60's OKC Fairgrounds and Ada. He raced his 100th race in June 1968 at the OKC Fairgrounds. Some his season points were; 1965-2nd in points 1/4 mile, 1967-6th in points 1/4 mile, 1968-16th in points 1/4 mile.
Big John has to be smiling down and saying dig in Terry and Nick.

Kenny Dierking (?-1972) Oxford, Nebraska
Kenny was killed in a race at Wakeeney, KS.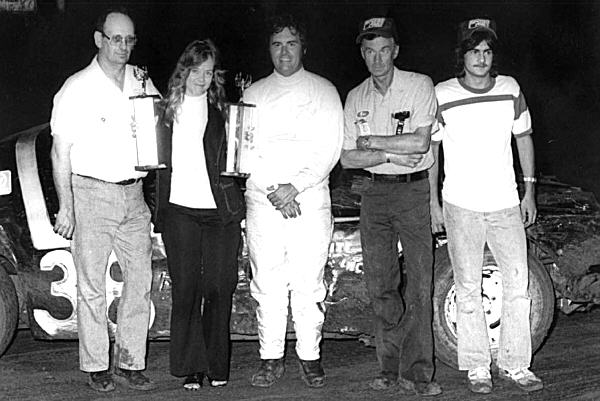 Willard Dingus: (?-1987)Wichita KS. Willard is on the left in the photo. Willard owned cars that raced at Wichita's 81 Speedway and around the area.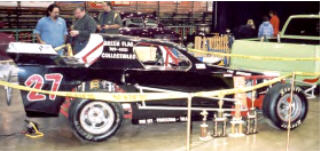 Photo contributed by Charles Crawford.
Photo by John Rittenoure.
L.E. "GENO" DREW: (?-10-24-2002) He was 47 and passed away from diabetes complications. He drove 100" modifieds, IMCA type modifieds and the pro-4 mini mods Geno is on the left.
Photo #514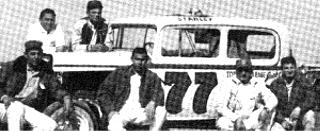 Stanley Durrett:(1938-2001) Promoter of Tulsa Speedway, and Muskogee Speedways, and former racer.
Photo #524

Amanda Dutton (1986-1993) September 5, 1993 Amanda age 7, and her brother, Josh, died after a wheel came off a car and sailed into the bleachers where they were sitting with their family, at the 81 Speedway in their hometown of Wichita, Kan.

Josh Dutton (1983-1993): September 6, 1993 Josh age 10, died on his 10th birthday, two days after a wheel flew into the stands and hit him and his sister, Amanda, at 81 Speedway in Wichita, Kan.



Contributed by Monte Cole.
Junior Duvall
Photo #439

Robert A. "Bob", Eichor: (1927-1990) Age 63, passed away Nov. 6, 1990 in Dallas, Tx. Born in OKC. Veteran of WWII. He was a race car driver for 25 years. Bob Eichor (1958-60) was a back-to-back-to-back champion at Taft Stadium in OKC.

Leroy Ellis: (?-1965)
We lost Leroy in an racing crash at Tulsa in 8/31/1965.
Photo #955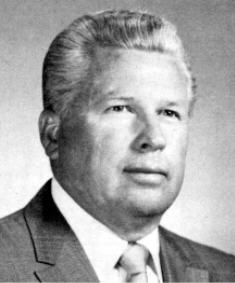 G.W. Elkins: (1921-2003)
The owner and operator of Amarillo Speed Bowl. In the early 70's he help start the National Championship Racing Association, which is still in existence today. He was an Army veteran serving with the third Army division under Gen. Patton in the WWII.
Click Here for G.W's Obituary in the Amarillo globe.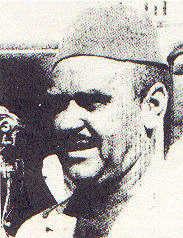 Photo from the 1970 Hutchinson Nationals Program.
Henry Ellington: (1919-1987) Hutchinson KS. Us locals will never forget the gold #36's of the cars that Henry drove for most of his racing career. The only driver from Hutch to win the Hutchinson Nationals (1966) in super modifieds. He won numerous features, and track championships in central KS. He was honored at the Hutch Nationals in 70's as the oldest active driver in KS.
Photo #235 & 236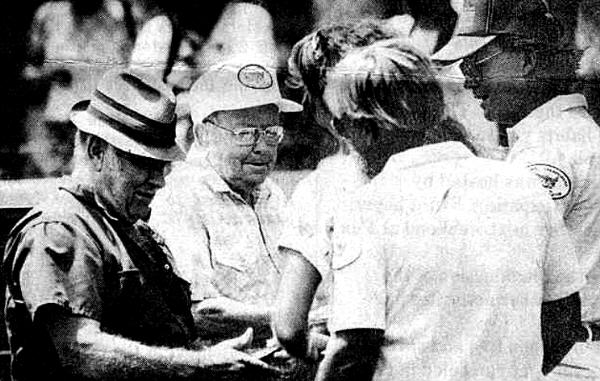 Photo contributed by Duane Toyne.
Henry Ellington (left) 1966 Hutchinson Nationals winner, and the only winner from Hutchinson in the days of the jalopy and super modifieds. Next to Henry is 1966 car owner Les Angel of Angel Construction. Presenting the award with back to camera is C.R. Hall and members of Speedways Inc.
Photo #454

Danny C. Etter: (1956-2002)
Danny passed away of a sudden heart attack on 8/18/2002 at home, he was survived by his wife of 25 years, 4 childern, 3 grandkids, 1 son in law, 1 daughter in law. Danny raced in the late 90s, then he became a crew chief for a mini stock, 2 years in a row they were champions, also he had gotten mechanic of the year. His two boys proudly accepted his award on sat, NOV. 23. "DANNY WE MISS YOU SO VERY MUCH AND LOVE YOU, YOURE GONE BUT NEVER FORGOTTEN", Paula and family.

Bob Evans: (?-1971)

<!IMG SRC="">

<!IMG SRC="">



Lap #2 Click for Lap #2 of the F-I names in memory.




For more pages check the Home Page.



Notice: Although I give credit to the person who contributed the photos for Racing From The Past. Twenty + years is a long time. There were many Photographers around the area. Many of the photos on this website may have been taken by some of the following and this is a blanket type credit to the many photographers. Ivan Brown, Don Clum, Van Cook, Mike Cornelson, Jim DeJarnette, Cecil Dougan, Lennel Fields, Bill Gay, Ken Greteman, Marvin Hutson, C.R. Kendall, Jerry Leep, Earl Mahoney, Tim Malone, Ted McCord, Pat Rigsby, and Chuck Sterling. Without these guys this website wouldn't be as complete as it is.