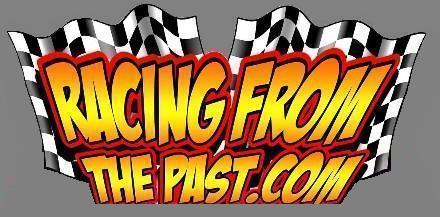 Kansas Late Models Racing From The Past

Lap #3




For a complete list of pages at Racing From The Past return to the Home Page

To keep on viewing more drivers, click the next lap below the last photo on each page. It may appear the stock cars are in order by there numbers, but on the whole site they are not.




From Springfield MO it's Larry Ball in the #3. One viewer e-mailed to help ID this car. I knew it was Larry something, and I thought it was from the KC area. 25 years is a long time, but I was close. The viewer also stated that Larry was an outstanding driver on asphalt and dirt. Thanks Ron for the help!
Photo #16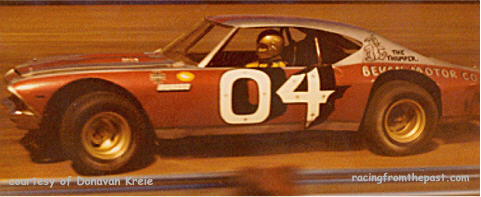 In the #04 from Hutchinson, it's Don Kreie, driving for Steve Dunsworth of Hutchinson. Steve also drove in the 70's, plus owned cars that Dick Hendershot, Henry Ellington, and Mel Montgomery drove in the 70's.
Photo courtesy of Donavan Kreie.
Photo #17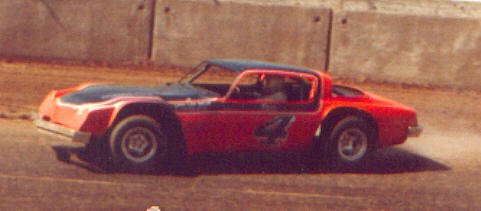 From Junction City, in the #4, it's Roger Thompson.
Photo #18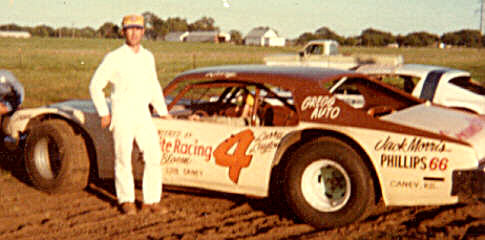 Larry Layton of Caney drove this #4 in the late 70's.
Photo #180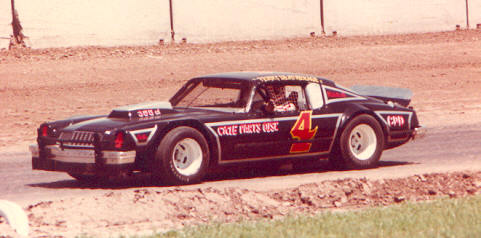 Terry Deatherage entered heavens gate, and is racing with some of the others that thrilled us. Formerly from Wichita, and Wichita Falls TX.
Check out Tim's Deatherage's tribute to Terry. There's also links to Greg Deatherage, Terry son's racing page. CLICK HERE
Photo #19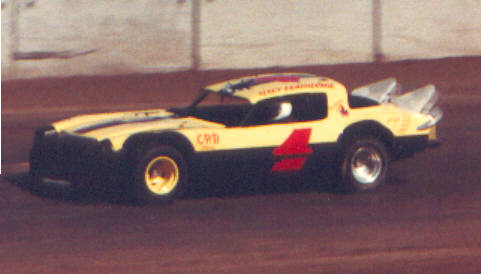 Photo courtesy of Jim Tomlin.
Here's Terry again (RIP Terry)
Photo #20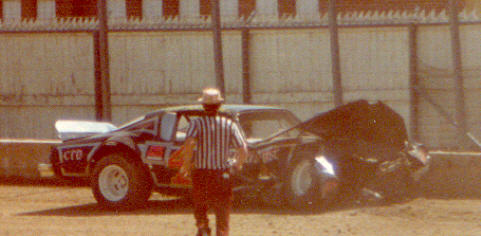 Photo courtesy of Jim Tomlin.
Notice the 4 sale sign on Terry Deatherage's crashed car. Things aren't supposed to go this way.
Photo #21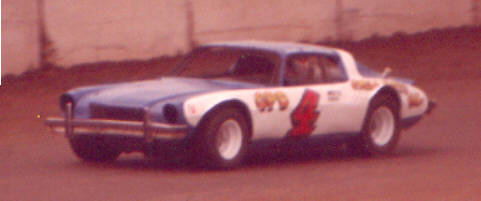 Here's the earliest I remember Terry in a stock car, probably 76. Before Terry raced cars, he was a flat track motorcycle racer.
Photo #22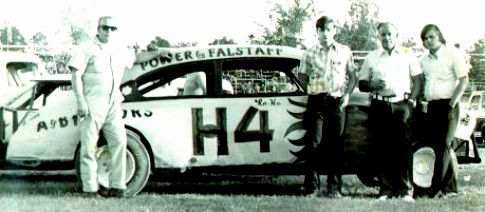 The driver of the H-4 from Hutchinson was Craig Schoenoff. This car was owned by Roy Borecky of Hutchinson. It ran in the Hobby Class. From left is Bill Green, Craig, Roy, and Rick Blackburn.
Photo from the Schoenoff family. Thanks Shelly for help!!
Photo #23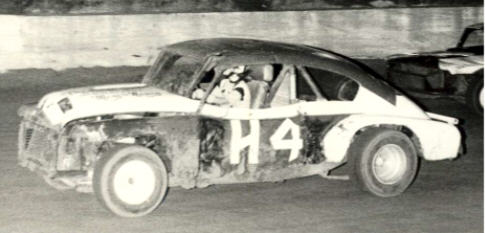 Photo courtesy or Donavan Kreie.
I assume this is maybe the same car or at least the Roy Borecky owned car of another year as above. But I'm not positive if Craig Schoenoff is the driver.
Photo #24

Lap #4




For a complete list of pages at Racing From The Past check the Home Page.