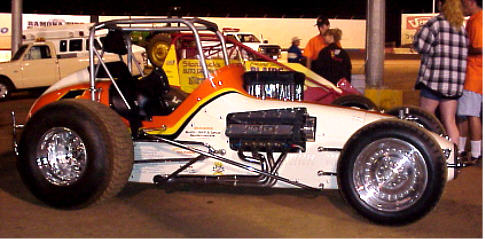 Photo contributed by Gerry Dedonis via Stan Teliczan.
The famous Morales Brothers "Tamale Wagon" CRA Sprinter that Buster Vernard drove owned and restored to all its beauty by Buzz Shoemaker. The engine is a Moser DOHC small block Chevy. About 6 sets of these heads were produced, and I think three remain, with this one the only running example. Buz brings it out every now and then for Buster to drive as a SCRA Main Event pace car.
Photo #379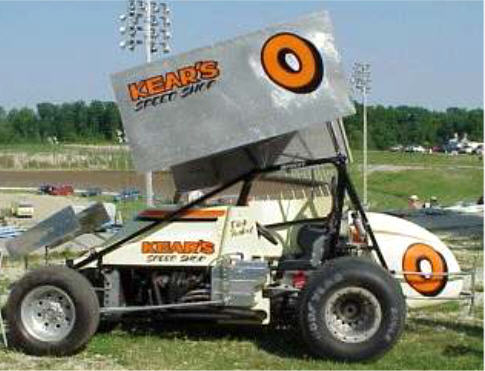 Photo contributed by Steve Estes.
Rick Ferkels last WoO sprint car. This car was last driven in USAC by Tony Stewart. Steve relates when they got the car it still had Tony's name on it.
Photo #388



Photo contributed by Monte Cole.
Another restored race car that Smilin Dan Diaz from the Tulsa OK area drove in the 60's.
Photo #389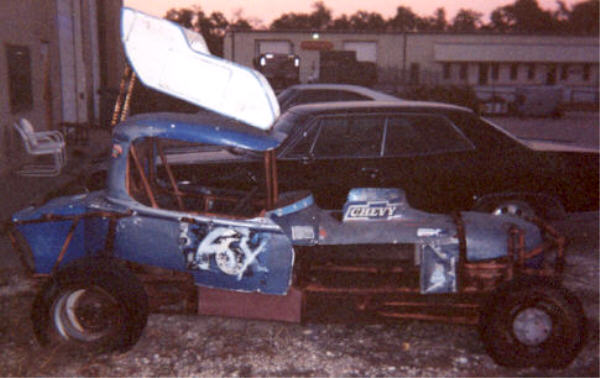 I shot this old super at Bontragers Powder Coating in Hutchinson, KS. It appears to be from the 60's. At first I thought it was the old Pat Haskard #86, but have been informed by Carl Curless (Pat's son inlaw) that it's not the #86. I don't have the details of this car, but it had an old decal from a racing association in Nebraska. I believe the wing was added to run with the 360 sprints in Hutchinson in the 80's.
Photo #471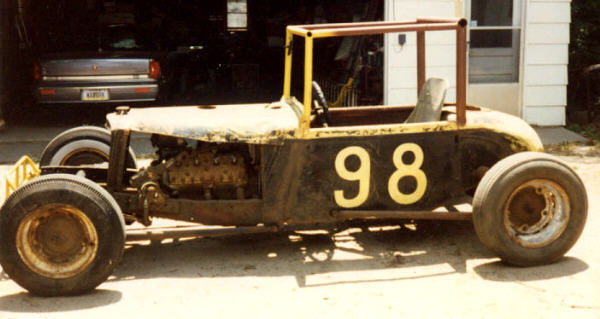 Photo contributed by Ed Bartlett.
This early 60's modified/rail was owned by Wes Bartlett from Hutchinson, Ks. this car ran mainly at Mohawk Speedway and the Kansas State Fairgrounds. Drivers that drove for Wes included Red Sims, Todd White, Wayne Harbold, and Ed Heaney was the mechanic.
This photo is of now and just the way it looked probably the last time it took to a track. AMAZING still in tack after all these years.
This car really brings back memories of my child hood at Mohawk Speedway.
Photo #505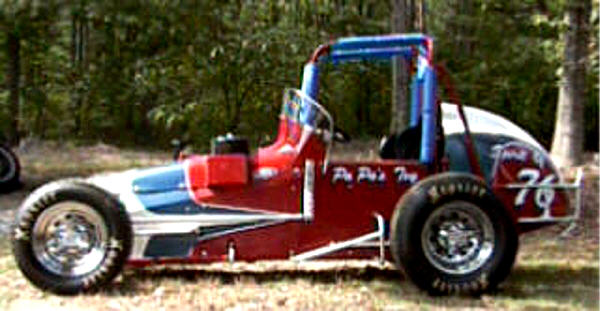 Photo contributed by Mike Nickle.
This 60's midget is owned by Mike Nickle and he purchased it from Ronnie Smith of Houston.
It has a Ford 4 Cyl 2300cc engine and parallel torsion bars.
Photo #513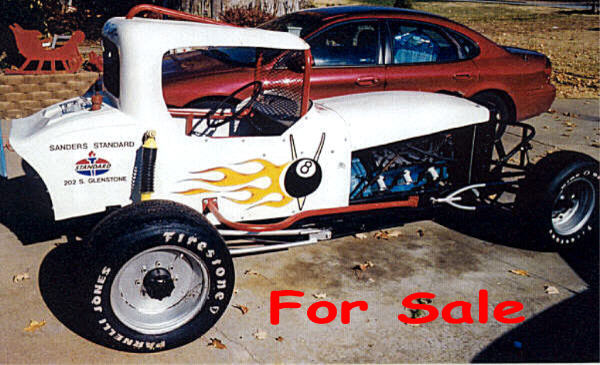 This car was Sold sometime back to a collector in California. It's not for sale that I know of know.
Photo contributed by Lynn Sanders.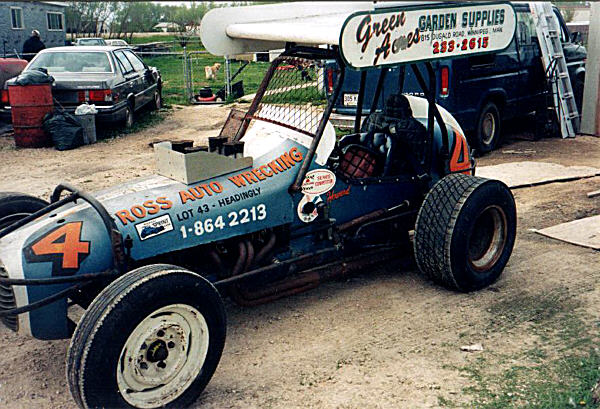 This is the unrestored CAE Sprint Car Howard Murphy drove at Brookland Speedway and Winnipeg Speedway in the late 60's and early 70's.
Robert Murphy has restored this CAE Sprinter and photos will be posted shortly of it.
It was built in 66/68 era and raced in the 68/74 era. The builders were Howard Murphy, Nick Shott and Bob "Shadow" Edmonds. Motor-327-355 (bored 30 over), Heads 202 Camel Humps, Fuel Methanol, Compression 12.5-1, Ignition- Vertex Magneto, Injection- Hilborn, CAE in & out box, Chassis CAE, Rear End Frankland, Axles Floating 12 spines (shortened).
Photo #653



This is the same car as above restored.
Photo #662

Lap #3 of the restored race cars, so CLICK HERE to keep on viewing.




For a complete list of pages at Racing From The Past check the Home Page.