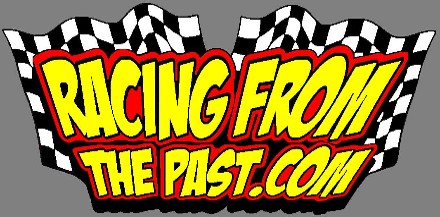 Kansas Supermodifieds
Of The 60's & 70's
Lap #12L
Drivers With The Last
Name Beginning With L






Return to Home Page for a complete list of pages at Racing From The Past. There are more pages in this section, just click next lap after the last photo.



Photo by Ken Gretemen.
Doc Lamb and the #7 from Wichita, KS.
Photo #156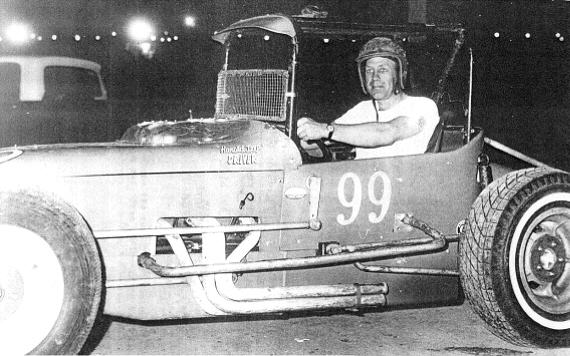 Contributed by Ray Cunningham
Harold Leep in Jelly Willhelm #99 supersprint in 1965.
Photo #761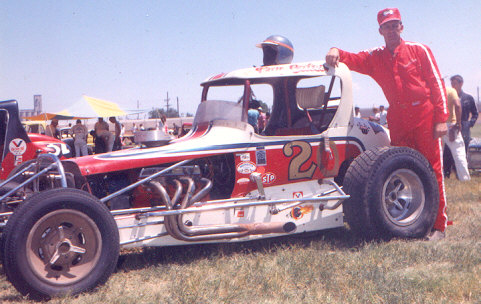 Photo by Ken Gretemen and contributed by Bob Mays.
Harold Leep drove the Ray Cates #2 in the late 60's and early 70's.
Photo #127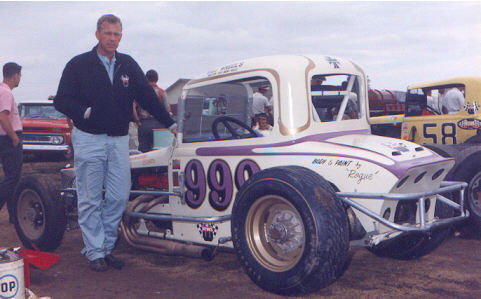 Photo by Ken Gretemen.
Here's Harold in the #999. I believe this was probably Harold's ride on Sunday nights at 81 Speedway in Wichita in the late 60's.
Photo #145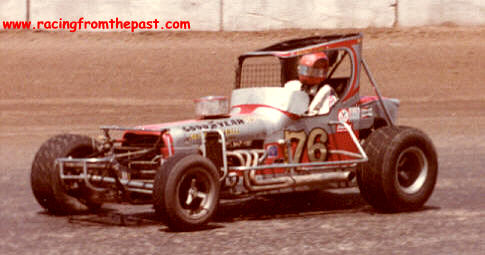 Harold in the Pat Suchy 76, 3 time NCRA Champion Harold Leep, from Wichita.
Photo #1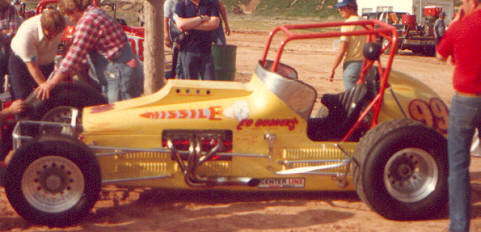 Harold in the Lonnie Snowden/Jelly Wilhelm #99. This was Harold's 30th year in racing.
Photo #2
Photo contributed by J.D. & Jannie Porter.



Photo contributed by Monte Cole.
Two greats who were from the Wichita area. Harold Leep in Ray Cates #2 from Tulsa and the Late Walt McWhorter in the McWhorter #98
Photo #672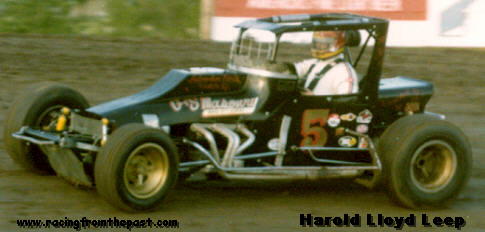 In the Stienert #5 it's Harold Lloyd Leep.
Photo #37



Harold Lloyd Leep from Wichita in 1977. I believe this was either the NCRA June race or the Chet Wilson Memorial race.
Photo #44



Photo contributed by Monte Cole.
Probably from 1977 at Tulsa. Harold Leep in the 76 and Harold Lloyd Leep in the 29.
Photo #632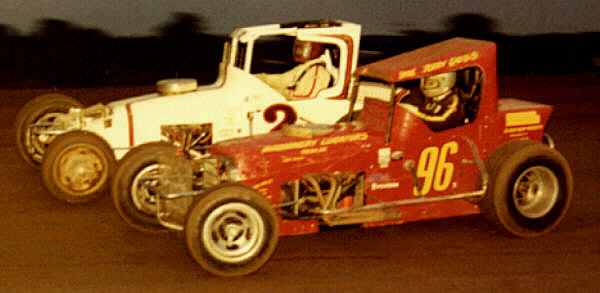 This is probably the same race as the photo above. We have just thrown in a hard charging Terry Doss from Oklahoma.
Photo #96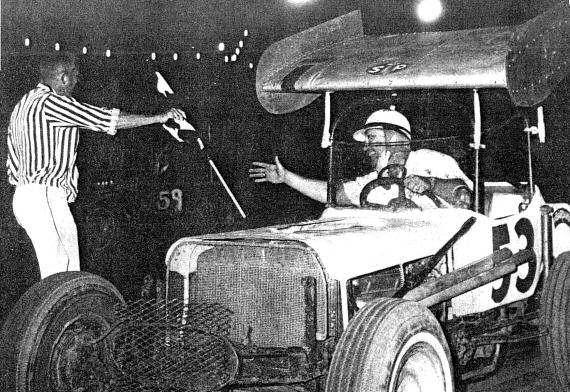 Photo contributed by Ray Cunningham
The 81 Speedway 1964 Points Champion Frankie Lies.
Photo #763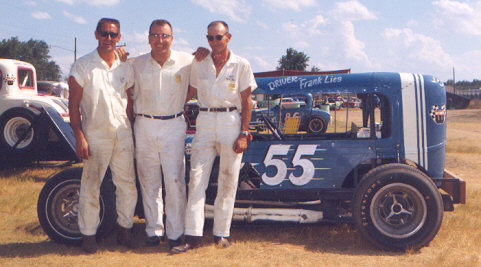 Photo by Ken Gretemen.
Frank Lies (center) and the #55 with owner Kenny Riffel (left) & pit-man Bob White. We lost Bob in a traffic accident along with Bob's wife Betty and Frank's wife Alma 10/24/71.
Photo #128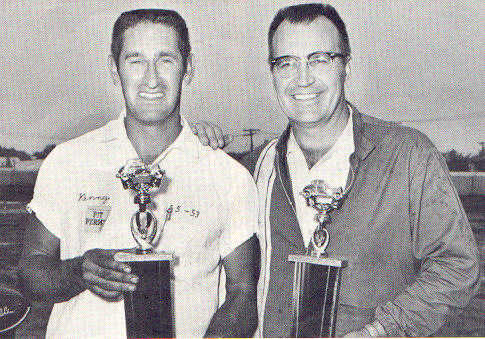 Photo from the Merrick Nationals Program.
Probably the greatest duo of the late 50's and 60's in the Kansas area. Owner of the #55, Kenny Riffel and the driver Frank "Frankie" Lies.
Photo #270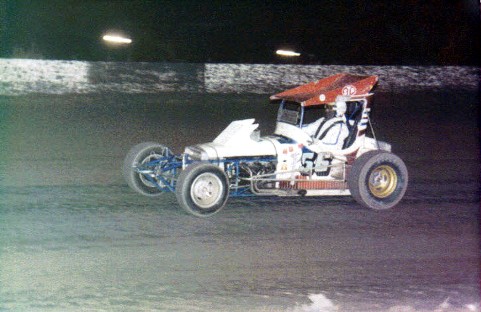 In the #56 out Wichita, 2 time NCRA Champion, it's Frank Lies. In 1979 at the age of 52 Frank won the NCRA 50 lapper at Wichita, only one of hundreds of wins over a 32 year career at that time.
Photo #4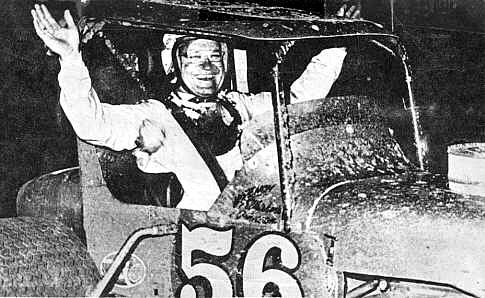 Photo anonymously mailed.
Frank Lies pulls into victory lane after winning the 1973 NCRA Race at 81 Speedway in Wichita.
Photo #368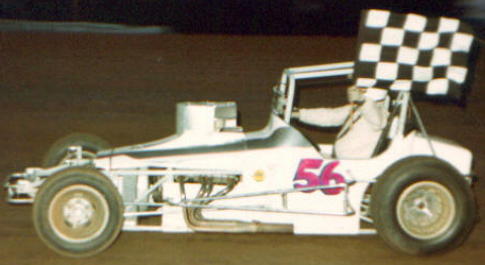 Another win for Frank Lies.
Photo #5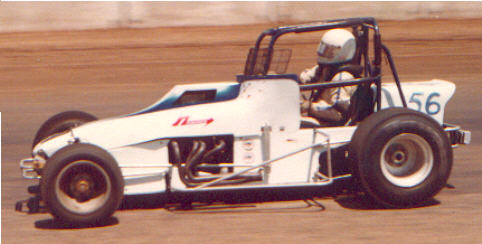 Here's Frank at the 79 Hutch Nationals, before they added a sprint tail.
Photo#6
Photo contributed by Mike Ehrlich.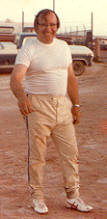 Frankie Lies
Photo #7



Wichitan Knows What It Takes To win NCRA




By Bob Stewart

"That old boy upstairs and luck." That's the way Wichitan Frank Lies describes what it will take to win the 50 lap main event tonight during the sixth annual National Championship Racing Association (NCRA) points race for super modifieds.
Lies, the defending NCRA points champion, was one of the two events last year at 81.
When asked about his chances of winning his first NCRA race of the year, Lies said, "I'd like to win it. We have as good a chance as anybody. A lot depends on the draw. We've had two bad ones (Wichita Falls, TX, and Dewey, OK) and it put us out of the show."
Continuing, He said, "Things look real good, of course barring any trouble. We've been running good at 81 and we know the track."
This season has not been good to Lies and his crew so far. Although they have been competing all year it wasn't until the Memorial Day week- end "that we got it all together" for one night.
At an NCRA event earlier this month in Lawton, OK, Lies pushed his Chevrolet powered super to fourth place, but said, "We were having carburetor problems. We've had a lot of problems with the car and when it's new, it causes new car problems," he added with a laugh.
Lies feels his knowledge of the track at 81 will also help him for the race. "We've been watching the track all year and the conditions, trying to match tires and gears to the right conditions."
Lies, who is entering his 30th year on the oval circuit, won last year's NCRA title by 10 points.
When asked why the competition was so close, he said, "There are basically three reasons. People are willing to spend money for race cars; they are seeking knowledge from everywhere, and the drivers have been developing more and more to the NCRA circuit."
Lies' main competition will come from fellow Wichitan Harold Leep, also a two-time NCRA points champion and the current NCRA points leader. Lies is third on the NCRA points lists behind Leep and Jay Woodside, also from Wichita.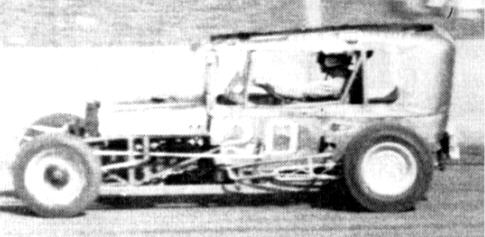 Photo contributed by Brian Conn.
Ron "Groovy" Lefholz from Olathe drove this #20.
Received and e-mail to let me know that Ron and his son Mike are still racing 410 sprinters in the Missouri area. Also that Ron along with Dee Zelmer who is also on this site were the top drivers at Savannah MO in the early 70's.
Photo #378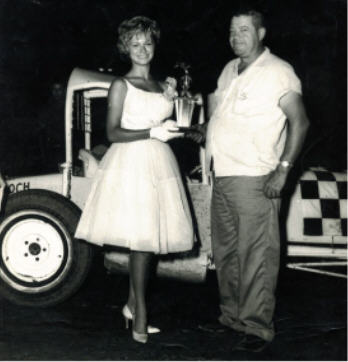 From Hutchinson it's Reuben Loepp from the early 60's.
Photo #164
Photo courtesy Bob Lawrence.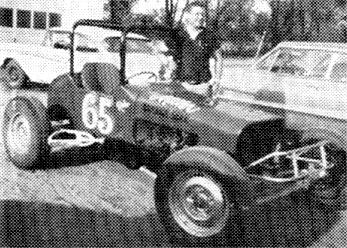 This modified from 1962 was owned by Bud Miller, and the driver was Reuben Loepp from Hutchinson.
Photos from the 1963 Mohawk Speedway program.
Photo #267



Lap #13M Drivers With The Last Name Beginning With M




Return to Home Page for a complete list of pages at Racing From The Past.



Notice: Although I give credit to the person who contributed the photos for Racing From The Past. Twenty + years is a long time. There were many Photographers around the area. Many of the photos on this website may have been taken by some of the following and this is a blanket type credit to the many photographers. Ivan Brown, Don Clum, Van Cook, Mike Cornelson, Jim DeJarnette, Cecil Dougan, Lennel Fields, Bill Gay, Ken Greteman, Marvin Hutson, C.R. Kendall, Jerry Leep, Earl Mahoney, Tim Malone, Ted McCord, Pat Rigsby, and Chuck Sterling. Without these guys this website wouldn't be as complete as it is.


<! file 1><!footerend>