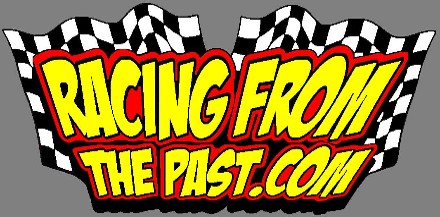 Kansas Supermodifieds

From the 60's & 70's
Lap #3C
Drivers with last name beginning with C






Return to Home Page for a complete list of pages at Racing From The Past. There are more pages in this section, just click next lap after the last photo.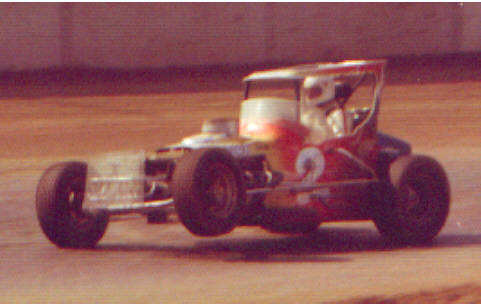 Photo contributed by Jim Tomlin.
Larry Coleman from Wichita at the 76 Hutch Nationals. This was probably Larry's best finish in a NCRA 50 lap feature.
Photo #23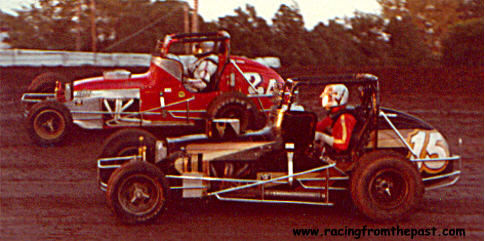 Herb Copeland in the #15 & Jerry Stone in the #24. Both cars were Performance Engineering cars.
Photo #25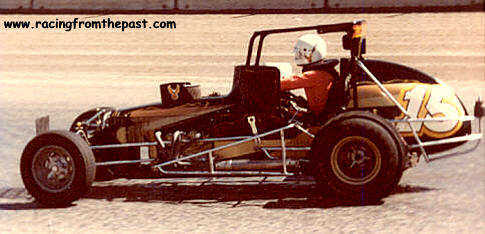 In The #15 It's Herb Copeland Of Wichita
Photo # 35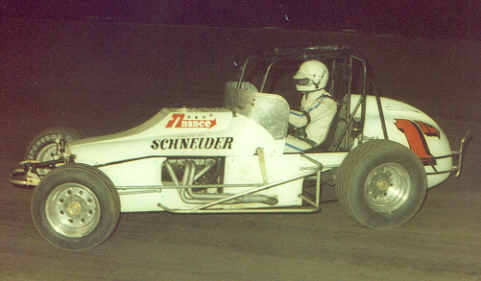 Here's Herb Copeland in the Nance/Wirth 1n 1979.
Photo #21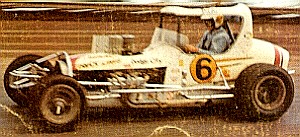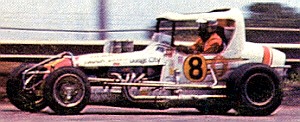 The Isaac Truck Line Team. Dale Reed of Wichita in the #6, and Herb Copeland of Dodge City in the #8.
Photo from the 1972 NCRA Yearbook.
Photo #291 & 292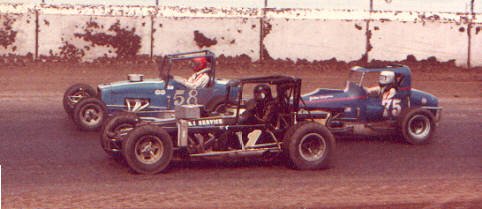 Don Adams Liberal #1, Duane Cain Wichita #58, and John Beeson Scott City #75 at Hutchinson in probably in 77.
Photo #65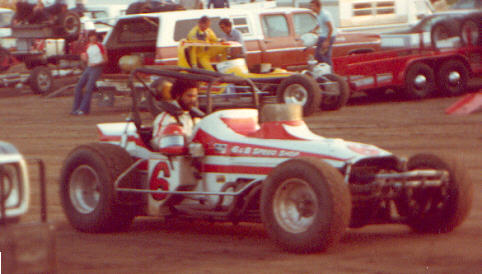 Duane Cain from Wichita, in the Isaac #6 preparing to do battle at 81 speedway.
Photo #42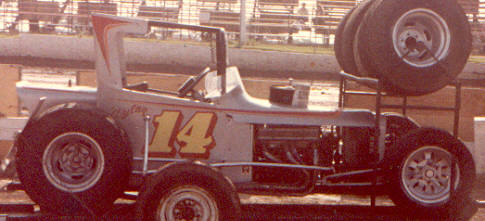 This is Wylan Cattrell's car #14. Wylan is a veteran of the open wheel cars.
Photo #46
Photo contributed by J.D. and Jannie Porter.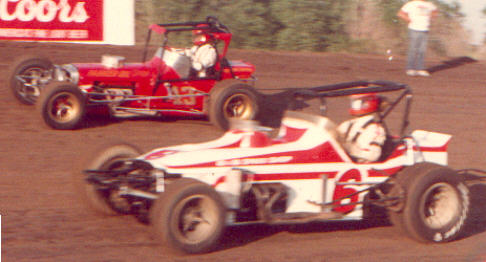 In the Isaac #6 is Duane Cain and in the Parker Oil #43 is Jim Selenke both from Wichita.
Photo #15
Photo contributed by J.D. & Jannie Porter.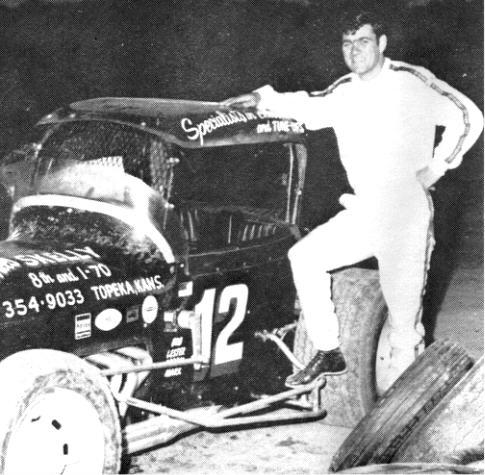 Photo contributed by Brian Conn.
Bill Cohee #12 from Topeka. Bill was one of the hot shoes and a veteran of the dirt trackers from the Topeka area.
Photo #370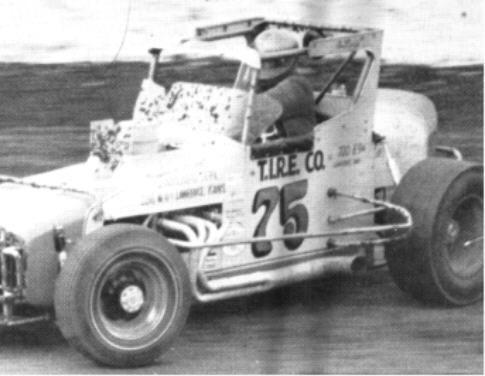 Photo contributed by Brian Conn.
Don Craig from Lawrence in the #75. Don and Lawrence Sinks are the only super drivers I have heard of from Lawrence.
Photo #371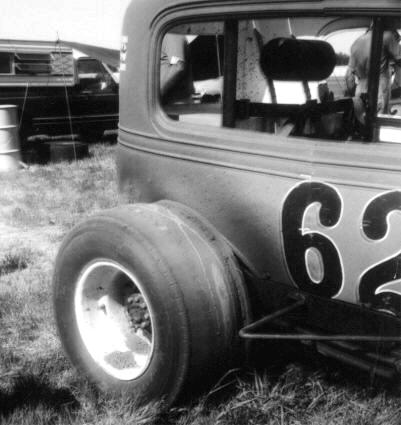 Photo contributed by Mike Evans.
This was common occurance at the Hutchinson Nationals after 50 laps, a bald right rear tire. This was on the Bill or Carl Curless #62. This might have been the year Grady Wade drove it.
Photo #575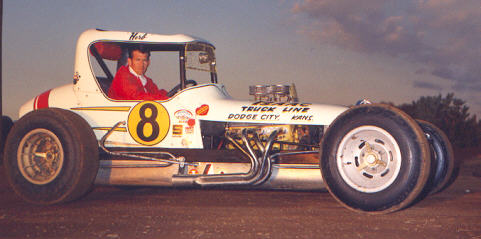 Photo by Ken Gretemen.
Herb Copeland from Dodge City KS in the Isaac #8.
Photo #130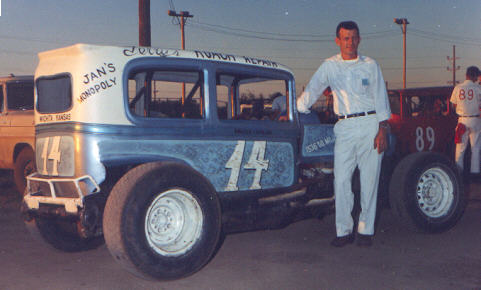 Photo by Ken Gretemen.
Wyland Cattrell and the #14 from Wichita, KS.
Photo #142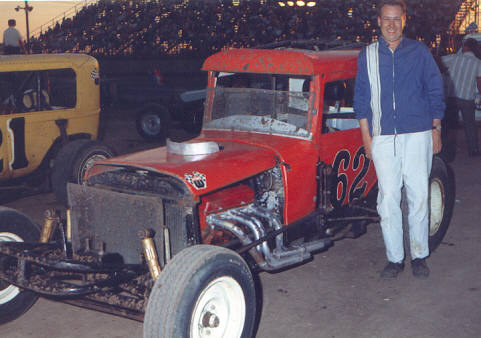 Photo by Ken Gretemen.
From Arkansas City in the #62, it's Bill Curless.
Photo #144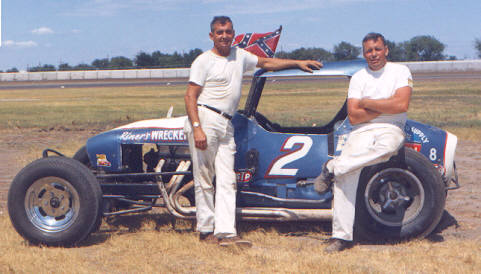 In the #2 Forrest Coleman (left) from Wichita and owner Ray Riner.
Photo #150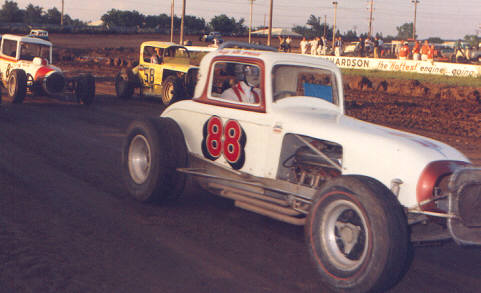 Photo by Ken Gretemen.
Don Spreier #88, Herb Copeland #8, and Dale Reed #58 at 81 Speedway in Wichita. In 66/67/68???(what year)
Photo #152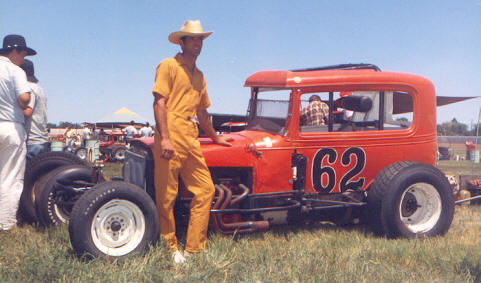 Photo by Ken Gretemen.
In the #62 from Wichita, KS, it's Jerry Everhart in 1969. In Carl Curless's car. Carl's in the black hat in front of the car. Carl lived in Hutch. Carl's brother Bill was a veteran driver & owner, and I believe he had curtailed his racing a bit by 69.
Photo #153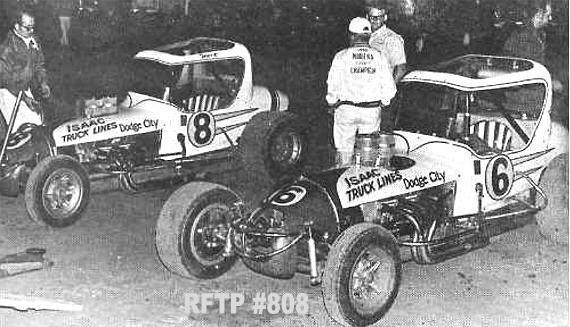 Photo contributed by Monte Cole.
The great Evart Isaac owned team cars of Dale Reed #6 and Herb Copeland #8 were unbeatable in the late 60's and early 70's.
Here they are side by side at the Enid Winternationals.
Photo #808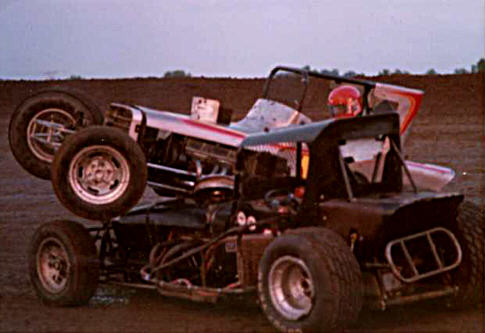 Photo contributed by Monte Cole.
This was probably 77 or 78 at 81 Speedway? Wylan Cattrell's #14 was being driven by Harold Leep. The black super may have been Larry Madden in the #1 or 1x?
Photo #417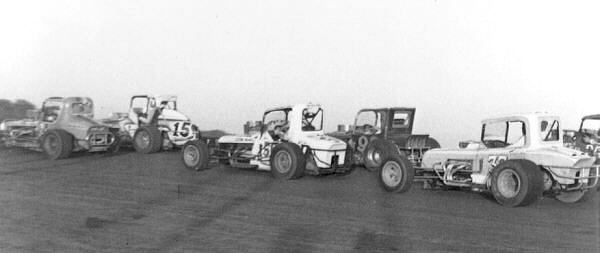 Photo Contributed by Russell Revel from the work of Jerry Leep.
A Sunday night in 1975 at 81 Speedway. From L to R, #4 Grady Wade, #15 Herb Copeland, #56 Frankie Lies, #98 Walt McWhorter, #37 Roy Bryant.
Photo #1020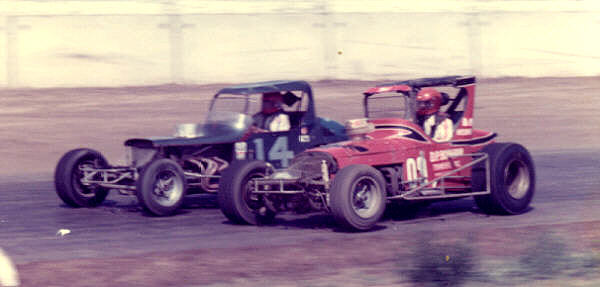 Photo Contributed and taken by Russell Revel.
Wylan Cattrell #14 and Ted Bacon #09. Could be the B Main at Hutch Nationals in 1975, which Ted won and Wylan was second.
Photo #1023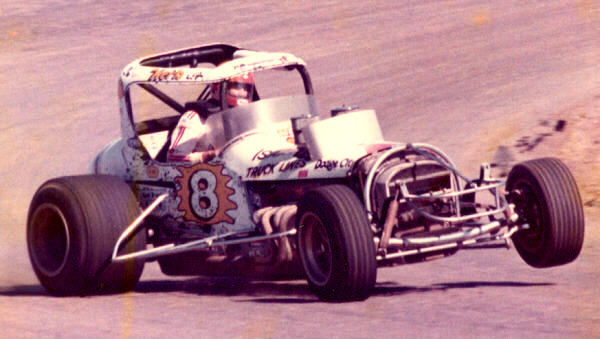 Photo Contributed by Russell Revel from the work of Jerry Leep.
Herb Copeland in the Isaac #8 hard on it at, I'm guessing Enid Winternationals in 1973. It just has that afternoon Enid look and the banking looks right.
Photo #1030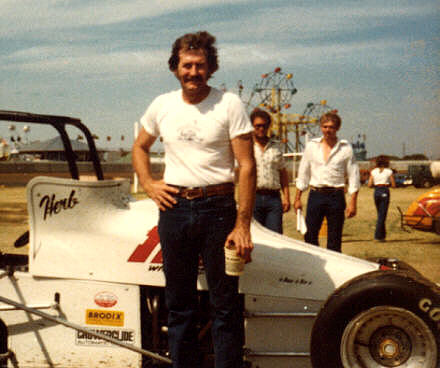 Photo Contributed and taken by Russell Revel.
Herb poises after winning the Kansas State Fair races in 79 or 80.
Photo #1031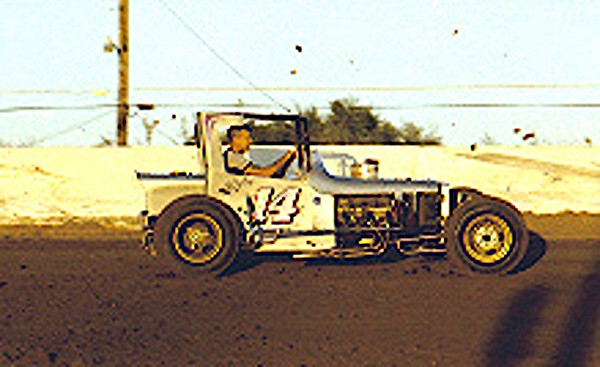 Photo by Rusty Manning
Wylan Cattrell packing the track at Enid. This would not be a good night for Wylan. His car would be left setting in turn 1 for several laps before a yellow would come out. It was hit 2 or 3 times by different cars on different laps. He was furious as he should have been. He was setting just inches above the cushion.
Photo #1099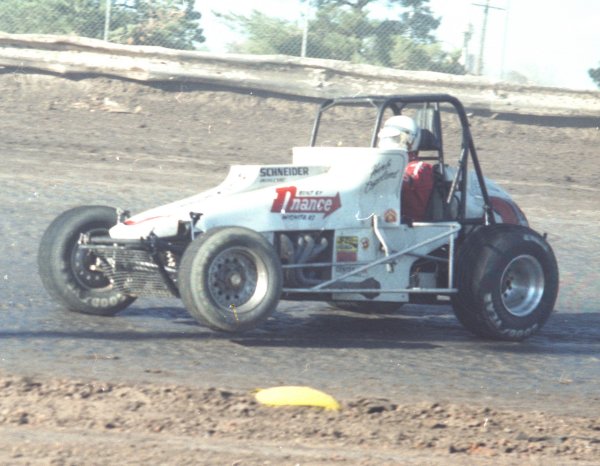 Photo contributed and taken by Rusty Manning
Herb Copeland gets air under the left front as he gets on the gas at Oklahoma City Fairgrounds Speedway.
This photo could belong in the 80's??
Photo #1258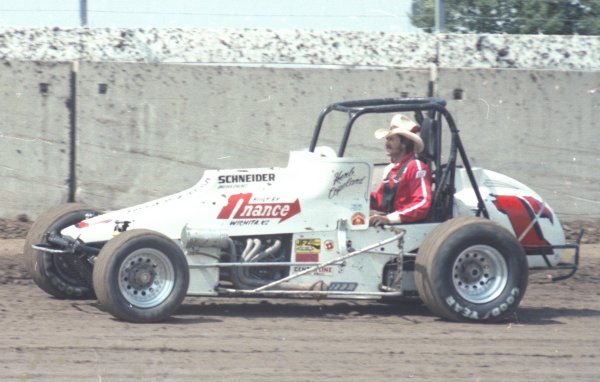 Photo contributed and taken by Rusty Manning.
Herb Copeland wears his cowboy hat while ironing the track at Hutchinson.
This was the Nance House car #1N.
This could be another photo for the 80's.
Photo #1243

Lap #4DDrivers that had the last name beginning with D




Return to Home Page for a complete list of pages at Racing From The Past.



Notice: Although I give credit to the person who contributed the photos for Racing From The Past. Twenty + years is a long time. There were many Photographers around the area. Many of the photos on this website may have been taken by some of the following and this is a blanket type credit to the many photographers. Ivan Brown, Don Clum, Van Cook, Mike Cornelson, Jim DeJarnette, Cecil Dougan, Lennel Fields, Bill Gay, Ken Greteman, Marvin Hutson, C.R. Kendall, Jerry Leep, Earl Mahoney, Tim Malone, Ted McCord, Pat Rigsby, and Chuck Sterling. Without these guys this website wouldn't be as complete as it is.


<! file 1><!footerend>