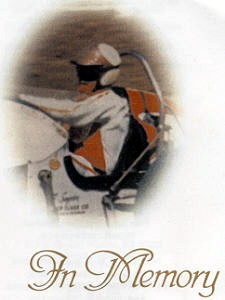 Racing From The Past Remembers Jay Woodside
January 6, 1939-December 25, 2004
Letter From Pat Woodside
I would like to take this opportunity to thank the many friends, and extended racing family for their help, thoughts and prayers during Jay's illness and since his death. As hard a time as that was and still is, it's the love and support of all the friends that helps me get through these times. Losing someone special is never easy, I am very glad that Jay was never abandoned by his old friends during this critical time. They came to his side and gave him incredible strength to draw from. It's time's like these when you realize just how deep these friendship's go. As I have only been around racing since 1992, you all have been incredibly kind to me.

Thank you for all that you have done for me. I know that Jay is looking down on us and is very proud of his racing buddies and fans. You all meant very much to him. It was always a pleasure for him to go to a track and talk to old friends, and new ones. It would be very hard to name each and everyone of you, I would be scared that I would leave someone out.

God Bless Each and Everyone of you.
Pat Woodside
Click here to e-mail Pat Woodside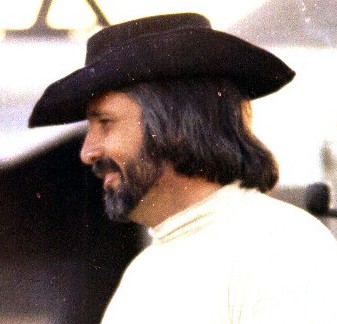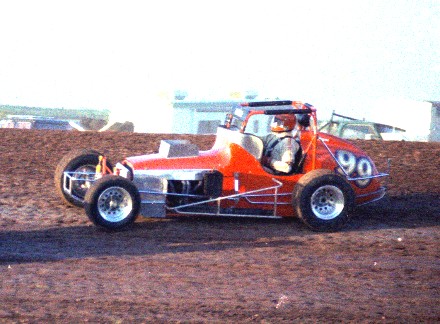 Jay (left) at Lawton in 1979. Jay in the Wilhelm #99 at Wichita Falls, Texas in 1979. This might be Jay's last top finish in his long career. Jay finished 4th in his heat and 10th in the NCRA Main.
Photo by Rusty Manning






Some of the photos above are from different years of the great NCRA Yearbooks by Jack Ward

Jay Woodside went home to be with the Lord. Jay was born on January 6, 1939 in Dodge City, Kansas, Jay left us 12-25-2004 at 11:30pm in Wichita, Kansas.

Jay was the 1966 Knoxville Nationals Champion. Jay is a member of the Nationals Sprint Car Hall of Fame in Knoxville. He is a member of the Belleville High Banks Hall of Fame. Jay won on nearly all kinds of tracks in sprints in the plains states and the midwest. Jay's first year in racing was 1955. Jay was the IMCA Rookie of the Year in 1961. Jay has won in the 100" supers on several ocassions. In 1976 Jay was running a strong 2nd in the NCRA Super Modified Championship hunt in the Performance Engineering Warren "Jelly" Wilhelm #24. With three races to go Jay had to retire after being diagnosed with M/S. With many outstanding years in the sprints, 1976 was a stellar year in the supers until August when he announced he would retire. But Jay fought M/S and came back to race several more years.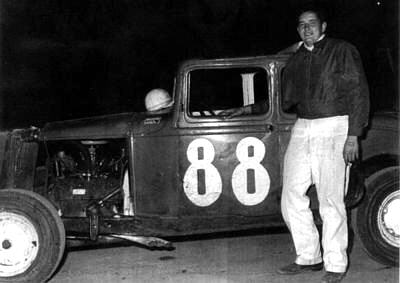 Jay back in the 50's.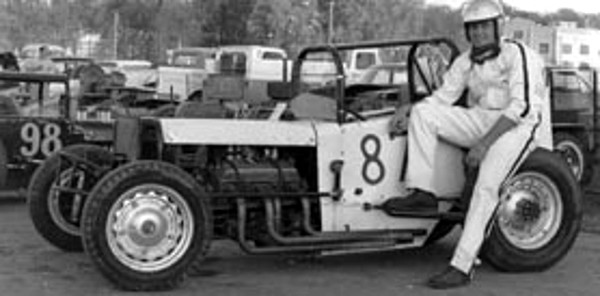 Courtesy of the Woodside Collection from Pat.
I'm guessing this may be at Olympic Stadium in Kansas City, MO in the mid to early 60's.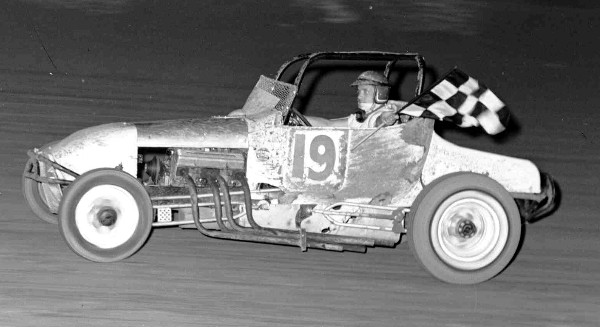 Courtesy of the Woodside Collection from Pat.
Jay in the Jerry Gilbert #19 at Lakeside Speedway in 1964.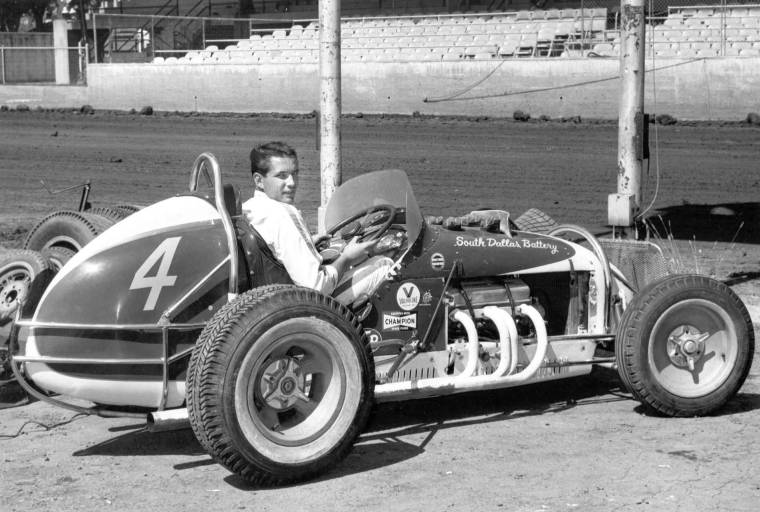 Jay at Topeka in 1965.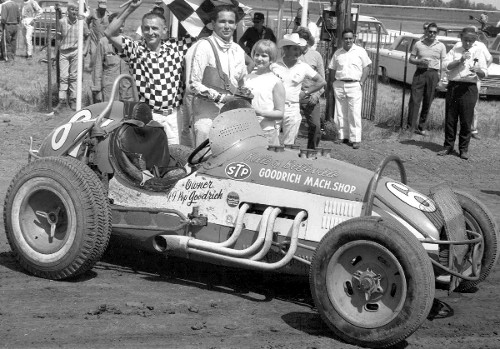 Photo courtesy of the Woodside Collection by Pat.
Jay with another win this time in the Goodrich Belle Of Belleville Sprinter at Belleville in 1966.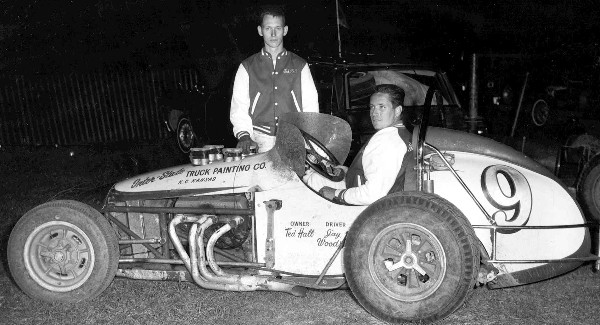 Photo courtesy of the Woodside Collection by Pat.
Jay again in 1966 at Belleville with car owner Ted Hall.
The sprints ran at Belleville on about every holiday during the summer and during the North Central Kansas Free Fair in August.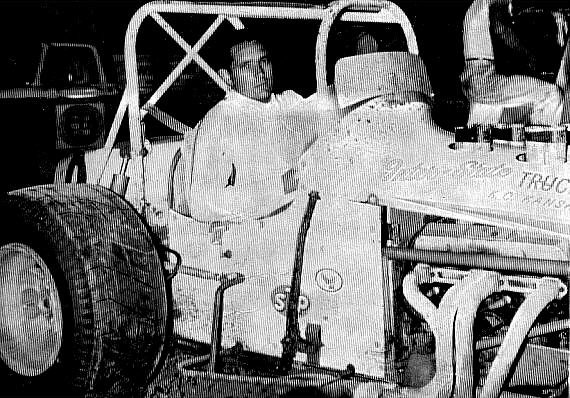 Jay Woodside the 1966 Knoxville Nationals Champion. 1967 Knoxville Nationals Program.
Contributed by MikeEvans.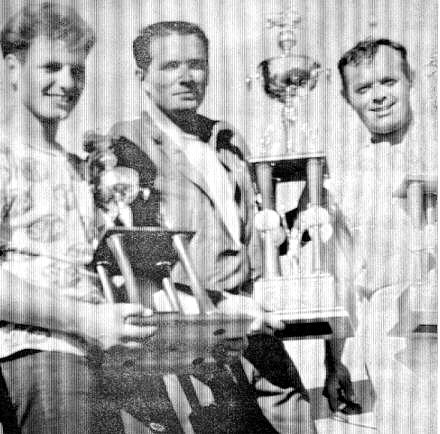 Jay Woodside in the winner circle after winning the 1966 Knoxville Nationals with Kenny Weld and Lloyd Beckman.
Contributed by MikeEvans.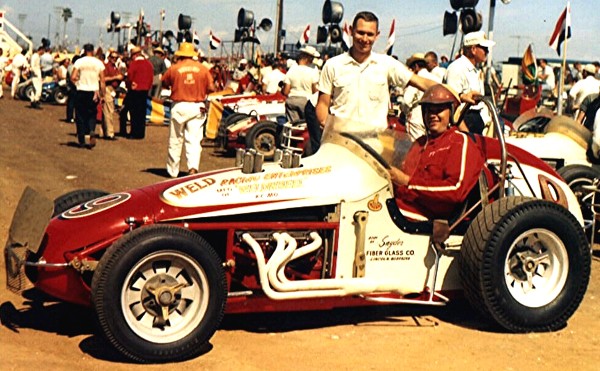 Jay and Ted Hall at the 1967 IMCA Winternationals in Tampa.
Photo contributed by Kim Fairbank.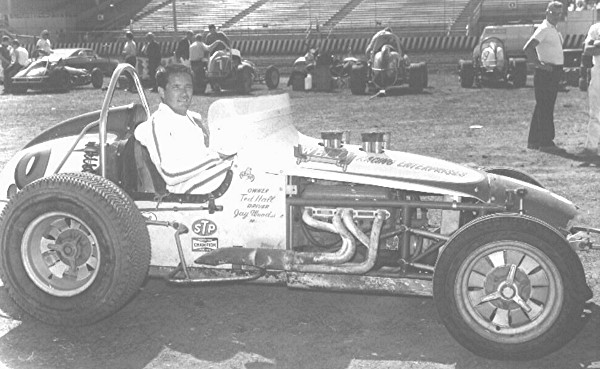 Jay poises in Ted Hall's #9 back in 1967.
Photo contributed by Kim Fairbank.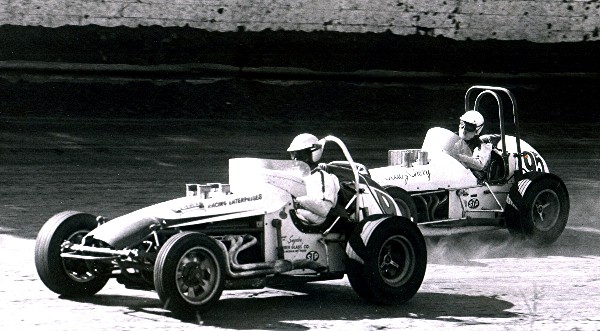 Jay again in the #9 at the Topeka Fairgrounds in 1967.
Photo contributed by Kim Fairbank.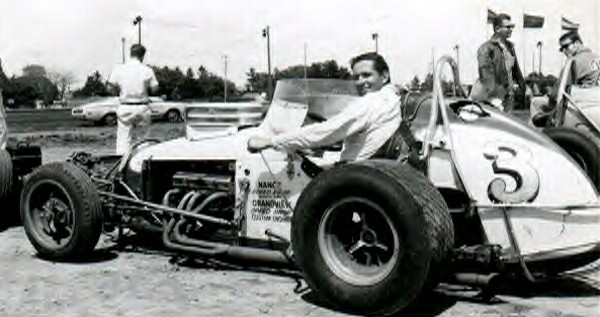 Photo contributed by Curt Grogan.
Jay in the Keith Barker #3.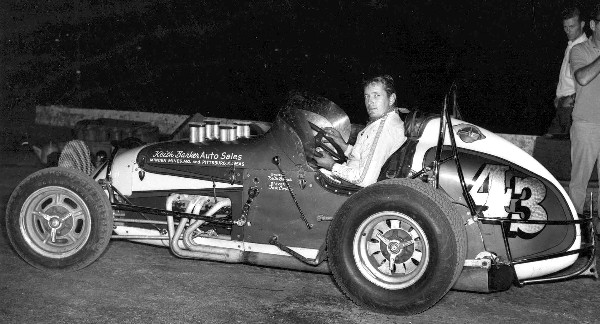 Photo courtesty of the Woodside Collection by Pat.
Jay at Oklahoma City in 1968 in the Keith Barker sprinter.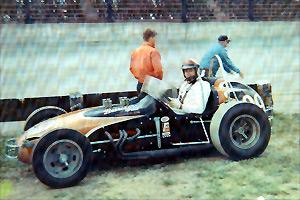 Jay in the Besecker Sprinter at New Bremen Ohio.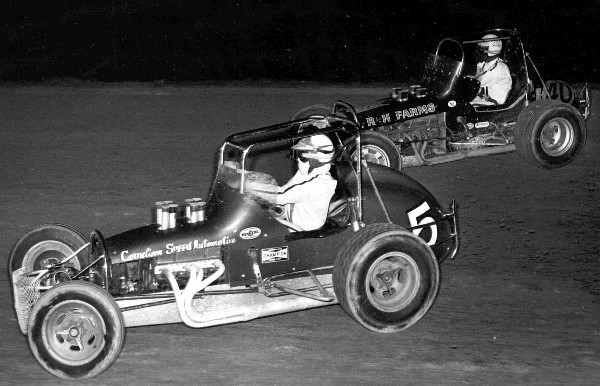 Photo courtesy of the Woodside Collection.
Jay at Erie Colorado in 1970 racing with Dick Sutcliff.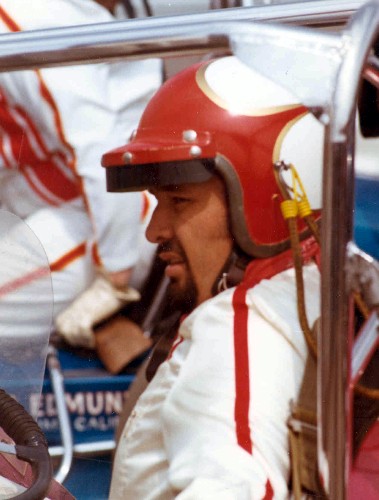 Photo courtesy of the Woodside Collection.
Jay at I-70 in 1970. I-70 was and is a 1/2 mile high back asphalt track near Odessa, MO. Jay won the very 1st sprint car race there but I don't know if this photo was that race.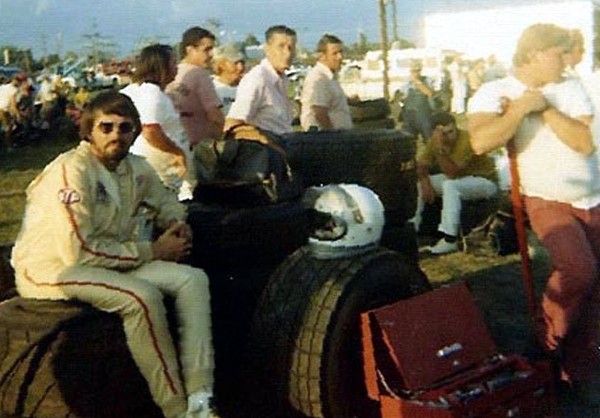 Jay at the 1972 Knoxville Nationals.
Photo contributed by Curt Grogan.

Articles From The 1972 NCRA Yearbook By Jack Ward
Jay brought additional class to a star-studded NCRA field in 1971. He is one of the outstanding dirt track drivers in the U.S.A. He began driving in 1955 and has raced every type of cars: sprints, late models, midgets, modifieds, and supers. He has been active in both USAC and IMCA sprints since 1960. Jay has all the qualities for racing greatness: intelligence, experience, a superb sense of timing and marvelous reflexes.
RACING HIGHLIGHTS:
Rookie of the Year-IMCA sprints-1961 National Super Modified Champion-Knoxville, lowa-1966 Missouri Modified Champion-Sedalia, Mo.-1967 BCRA Sprint Champion-Denver-1967 IMCA Sprints-2nd in Season Points, 1969; 3rd in Season Points, 1970 Jay is 6th in lifetime IMCA points among active drivers and holds sprint track records at Des Moines, Hutchinson, Topeka, and Odessa, Missouri. He raced in four 1971 NCRA Nationals, setting quick time and finishing 2nd at Tulsa, and placing 6th at Enid.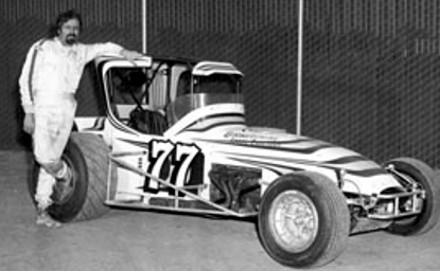 Jay with the Leon Bomershine super at Tulsa in 1974.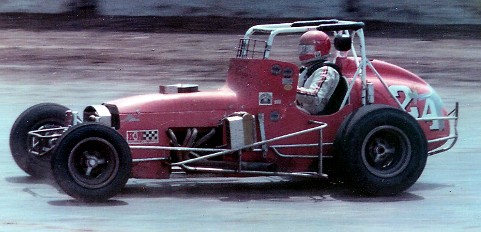 Jay at the Hutchinson Nationals in 1976. This would be his last race in 1976 and the end to a possible NCRA Championship. Jay would battle M/S and come back and race until 1984.
Photo from the Woodside Collection.

Jay Woodside Wichita, KS. Article from the 1973 NCRA Yearbook By Jack Ward
Jay recently moved back to Wichita from Kansas City; this spells rugged competition for area drivers, and probably means regular NCRA appearances instead of occasional ones. He drove the 97 car for Larry Prather at the 1972 season's end, this could be a championship team in 1973. Jay has been active in USAC and IMCA sprints since 1960, and has also race midgets and late models. Few drivers get around a race track as quickly and skillfully as Jay, and he'll make a hard run at the NCRA leaders in 1973. He has the ability and the experience to win in the toughest competition.
Career Highlights
Mainly the same as above with the addition of:
NCRA Record: 12th 1971, 23rd 1972, Seconds (1) Tulsa 1971
By Jack Ward
This veteran sprint star had a frustrating year In 1973. He appeared to be hitting hls stride after a slow start when an eye infection sidelined him for most of the summer. He came back in late season, but was unable to hit his usual form.
He's had some great years In both supers and sprints, and should rebound as a threat to win any event he enters. He's a track-wise veteran who is capable of putting on a great show. He'd like nothing better than an NCRA win, If a good ride turns up for him this season, he will achieve just that. NCRA Record: 17th 1973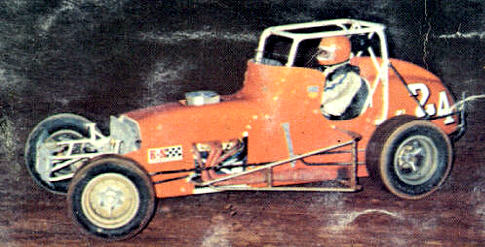 Jay at the 1976 NCRA Race in Wichita Falls, Texas. Photo from the 1977 NCRA Yearbook by Jack Ward.

Article from the 1975 NCRA Yearbook By Jack Ward
Jay had modest success in the Boomershine Special last year, but never really attained the performances that he's capable of. Twenty years of super modified and sprint racing have given him invaluable experience.
He'd like to put together a year in supers that would compare with some of his great years on the IMCA sprint circuit. He simply hasn't had things fall Into place for him, but with a good 1975 ride, who knows? This could be the year that he reaches his potential. NCRA RECORD: 12th 1971; 23rd 1972; 17th 1973; 14th 1974 Seconds (1) 1971 -Tulsa

Article by Jack Ward
This wily sprint veteran was sidelined much of last year by lack of a good ride, but did get into the Performance Engineering Special long enough to sweep a Tulsa show.
This year Jay and veteran car builder Jelly Wilhelm are teaming up early and should form a winning combination. No one builds a better car than Jelly and Jay is one of the most experienced dirt track drivers in the region. Jay has been looking for a big year in supers this may be it. He would love to duplicate his IMCA sprint success.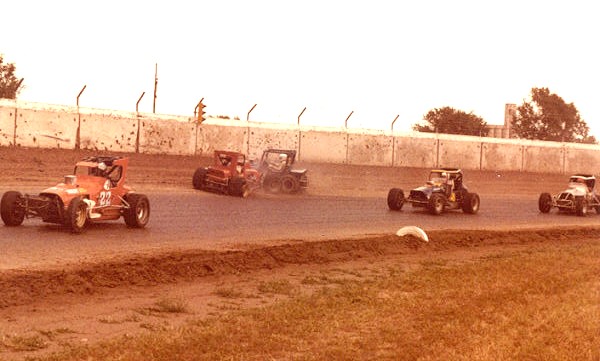 Jay Woodside #25 Wichita and #1 Davey Moore Wichita get together at the 1977 Hutchinson NCRA race. Rick Salem #22 from Oberlin, KS is ahead of the action.
Photo from the RFTP collection.

Article from the 1977 NCRA Yearbook By Jack Ward
From March until August l 1976 was Jay's best year in super modified competition. Driving the Performance Engineering Special, he won four weekly features at three different tracks and was running a strong second in NCRA points. Then a recurring eye problem hospitalized him and the diagnosis indicated Multiple Sclerosis.
This meant retirement for the balance of the 1976 racing season, with a likelihood of permanent retirement from racing. The Hutchinson NCRA event was to be Jay's finale for 1976, and with it his championship hopes went glimmering. Jay's vision was affected just enough to make him feel he shouldn't risk endangering his fellow competitors or himself.
It was ironic that Jay would be sidelined just when he was making a breakthrough in supers. Long acknowledged as one of the top sprint drivers in the Midwest, Jay had not had a strong super ride until last season.
His driving future is uncertain and will depend on current evaluations of coordinative ability. If he is unable to return to competition he'll certainly be missed. Everyone in racing will be pulling for Jay to battle M S to a standstill. The determination that he displayed in racing is a strong indication that he'll give it a heck of a fight.
NCRA RECORD: 3rd 1976; 14th 1974; 17th 1973; 23rd 1972; 12th 1971
Seconds (3) 1976 -Lawton, Wichita Falls; 1971 -Tulsa Thirds (2) 1976 -Oklahoma City, Dewey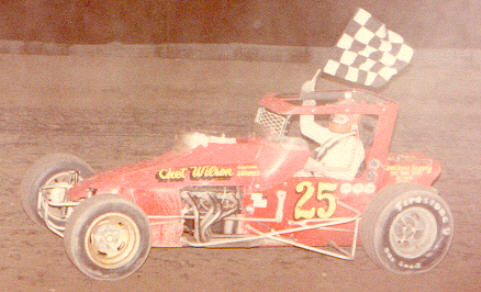 Jay winning the very 1st Chet Wilson Memorial race in the Chet Wilson Engine Super owned by Jerry Wilson. This was a 50 lapper on Oct. 2, 1977. It had a star studded field.
Photo from the RFTP collection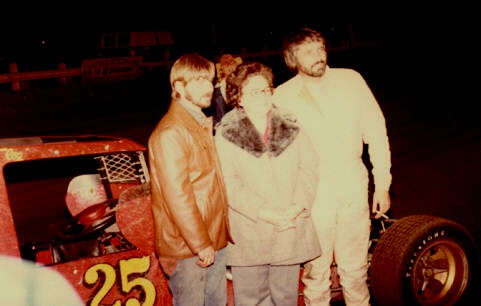 Jay with Jerry Wilson and Jerry's Mother Althea, and I'm sure Chet was smiling down at all of them. Photo from the RFTP collection.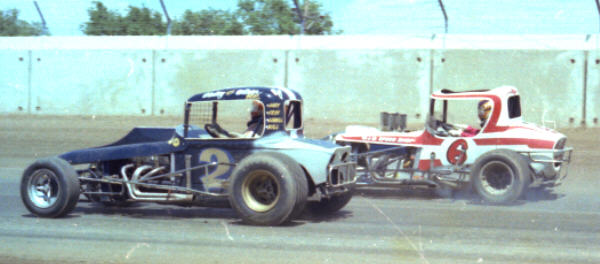 Photo by Rusty Manning.

Jay aboard the #2 at the Hutchinson Nationals in 1978. This super was normally driven by Rich Wilson of Wichita.

Ms. Joey Wilkerson from Holywood California was driving the Isaac #6. This was some kind of promotional deal with Speedways Inc. Ms Wilkerson appeared in a couple of movies and appeared on different network TV shows. She may have been a stunt woman also??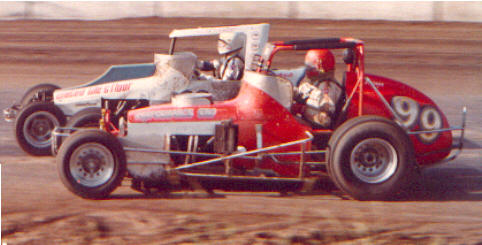 Jay Woodside from Wichita In the Wilhelm #99 at the 79 Hutchinson Nationals. This was actually 99x, because Harold Leep was also in #99. On the outside of Jay is Jiggs Found from Amarillo, TX. Photo from the Mike Ehrlich collection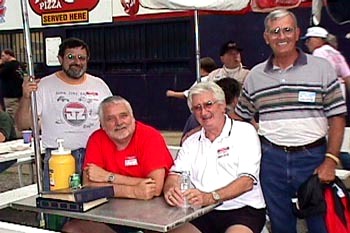 Jay with some other fast company and friends in 1999 at Muskogee I believe, (left to right)Jerry Stone, Jay, Dale Reed and Jerry Everhart.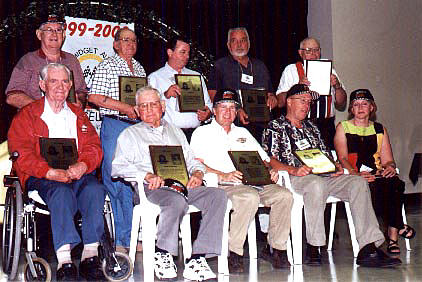 Jay is inducted into the Belleville High Banks Hall of Fame in 2000. Another legend from Wichita LaVern Nance was also inducted the same year. Photo from the Belleville High Banks Hall of Fame and Museum.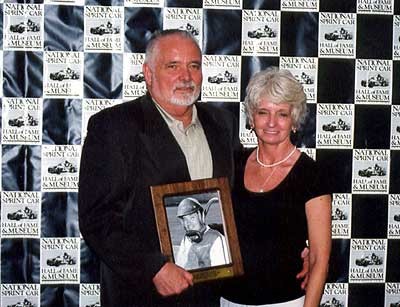 Jay and wife Pat at the 2003 National Sprint Car Hall of Fame in Knoxville Iowa at the induction ceremonies. This is the highest level of achivement for a retired sprint car driver.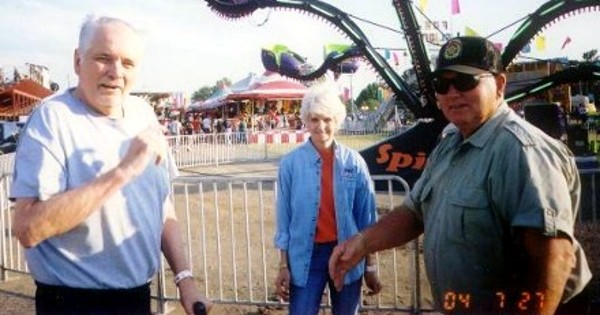 Photo courtesy of Scotty Anderson.
Jay, Pat and and an old rival Ray Lee Goodwin at the 2004 Belleville Midget Nationals.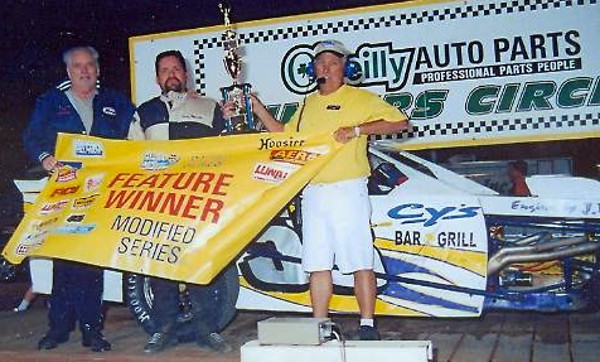 Jay with son Randy in 2004 after Randy won his 1st NCRA Modified feature. This was just before Jay went into the hospital.
I can only imagine how proud Jay was on this evening. It had to be very special for Jay to see Randy win his 1st NCRA Feature.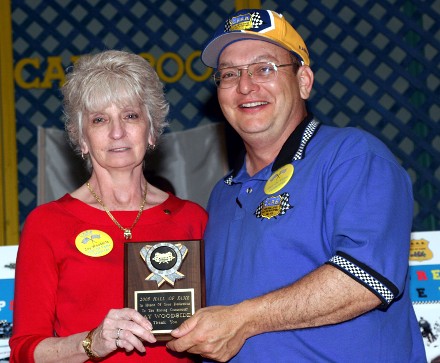 Photo by Picture Me Racing at www.picturemeracing.com

For the complete collection of photos from C.A.R.B Banquet and Hall of Fame Induction Ceremonies click on the link. Then click on view and order photos.

Pat Woodside accepts the plaque for Jay Woodside's inductions into the C.A.R.B. (Central Auto Racing Boosters) Hall Of Fame in North Kansas City, MO Saturday night 3-5-05.



Photo by Picture Me Racing at www.picturemeracing.com


Four living and six deceased names were enshrined into the C.A.R.B. Hall of Fame Saturday night at Finnegan's Hall in Kansas City. Front Row (L to R) Bill Chennault Jr. (accepting for Bill Chennault), Charlene Karrick (accepting for Tom Karrick), Pat Woodside (accepting for Jay Woodside), Dale Roper (accepting for Larry Phillips)--Back Row (L to R) Greg Weld, Cecil Taylor, Gene Gennetten, Bob Reber (accepting for Tom Wilson), Jerry Weld (grandson of Jerry Weld), Ray Lee Goodwin.



Other Links about Jay



Another Racing Legend....A Story about the Racing Career of JAY WOODSIDE By: Rich Boteler Click on the link to read the story by Rich.
Another Racing Legend

Jay Woodside…History Personified

Jay Woodside at Find A Grave. Com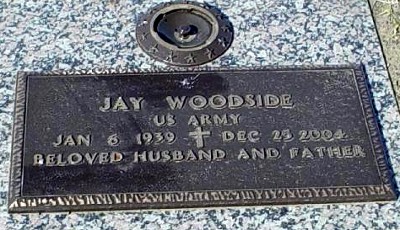 Racing From The Past Forum/Message Board


Use the forum to advertise, buy sell or trade etc. Promote your up coming vintage events. Talk about old racers, owners, races, cars, tracks, and organizations and post your own photos from your collection.




Home Page For Racing From The Past