Click on home button for a complete index of pages at Racing From The Past

High Plains Thunder

Supermodified Racing in the Midlands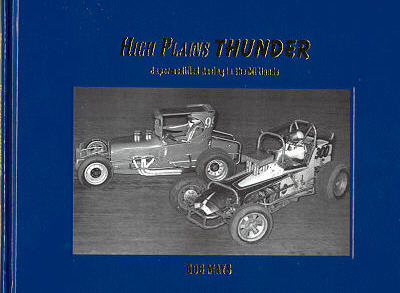 Photos have been cropped for space.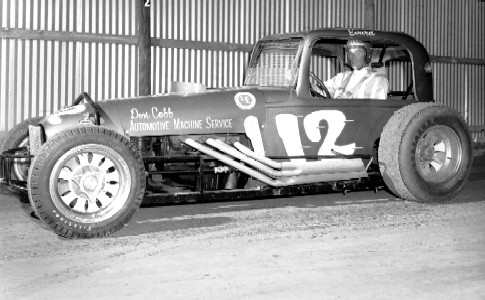 Evard Humphrey looks confident in his Larry Nailon sedan. This car featured four-wheel independent suspension. It must have worked becused Humphrey won the 1967 Enid Speedway with it.
Mike Pogue collection
HPT #7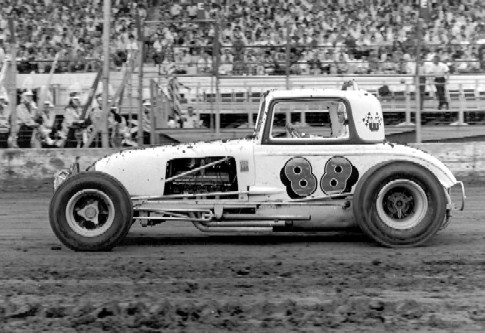 Rocket 88-Don Spreier wheeled the sharp looking Paul Chance Olds 88 to The Merrick Circuit Championship in 1968, then quit racing completely.
Ken Greteman photo
HPT #8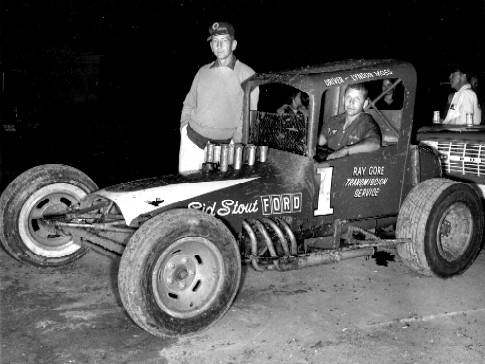 Car owner, Jack Moss and his driver, Lyndon Moss, wait for the signal to fire up their supermodified for the 1969 Southwerstern Championships at Amarillo, Texas.
Leroy Byers photo
HPT #9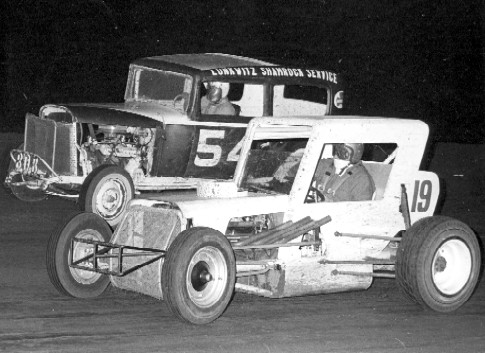 Ken Hoover (19) pushes his supermod past Bob O'Neil's hulking sedan at the Lincoln County Raceway in North Platte, NE, as the 1968 season commences.
Geroge Edeal photo
HPT #10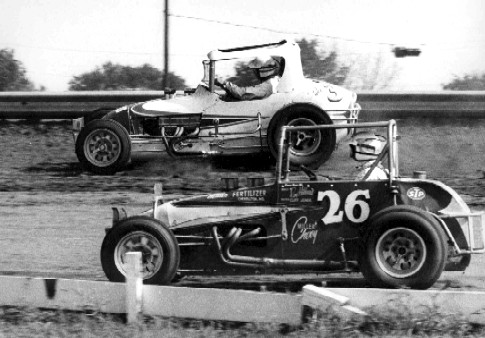 Gary Scott's Wee 3" takes to the high side in an effort to stay in front of Roy Hibbard (Miller Chevy 26) at Sedalia during the Missouri State Championships. Scott was a really nice guy who would die at Knoxville in 1982 in a horrible crash on the frontstretch. Because of that wreck, wings have been standard equipment at the Central Iowa oval since.
Ken Simon photo
HPT #11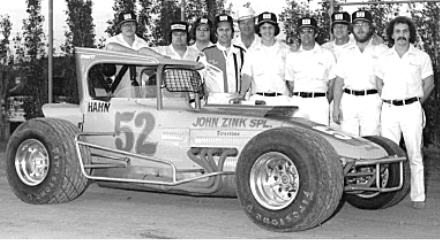 Emmett Hahn won nine races and his fifth Tulsa crown in 1978. Hahn, along with chief mechanic, Denny Moore, crew chief, Herschel Goodnight and his Zink crew set new standards at which future generations would shoot with records for most wins in a season, most consecutive wins and career wins. Jack Zink is, perhaps, the only car owner in this book to go from Indy cars and end up with Supermodifieds. He owned the winning cars in both the 1955 (Bob Swiekert) and 1958 (Pat Flaherty) Indy 500's and continued to own Indy cars through the 1967 season.
Tim Malone photo
HPT #12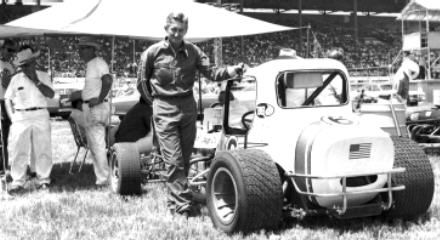 Dale Reed (Evart Isaac 6) won his second consecutive 81 Speedway title in 1972 ahead of Grady Wade, Walt McWhorter, and team-mate, Herb Copeland. In 73 he made it three straight, this time over Copeland, Larry Dewell, McWhorter and Jim Harkness.
Jerry Leep photo
HPT #13




Bill Rigsby (George Hibbs 69) leads Frankie Lies (Kenny Rifle 55) at Belleville. Rigsby survived the afternoon dust storm to take home the winner's check.
Tom Powell photo
HPT #14




The first two rows of the 1968 Missouri State Championship race, at Sedalia, come around for the green flag. Russ Hibbard (Carver 87) and Dale Moore (Don Furr 96) make up the first row while Gene Gennetten (Rhine 300) and Jay Woodside (Weld 94) fill the second. Russ's brother Roy Hibbard won the annual affair.
Lewis Studio photo
HPT #15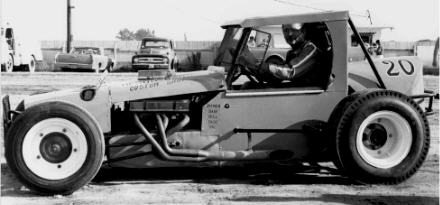 Duane "Stoney" Stoneking was a veteran sprint car racer in the Mississippi Valley area, when he put together this super to run at the 34 Raceway in Burlington IA.
Roger Meier photo
HPT #16



Fastrack Publishing
4268 Knox St.
Lincoln NE 68504-1954





CLICK HERE To send E-mail to Bob Mays author of High Plains Thunder at [email protected] Please mention Racing From The Past.

If you like This web site Racing From The Past, High Plains Thunder will be a must for your racing library.