Return to the Home Page for a complete list of pages at Racing From The Past.


Photo from the Hutchinson News, Monday July 29,1974.
What's left of the 13 car pile-up at the 1974 Hutchinson Nationals. The car in the center is the #96x of Jack Petty's.
This fire resulted in near fatal burns to Jack Petty, Jerry Soderberg and Aaron Madden. Jack and Aaron both returned to racing in about a year or two. Aaron was involved in another racing accident at Tulsa which ended his career. Jack raced for a couple more years. Later become a promoter. Jack is still very much involved in racing with grandson Jeremy and his replica of Tim Flock's NASCAR Hudson.
Photo #346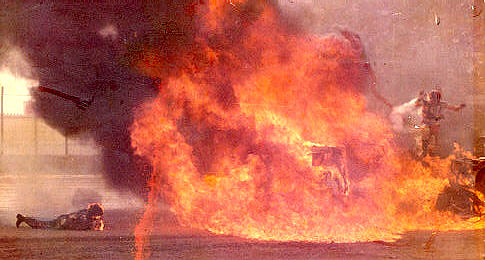 Photo sent anonymously. Photo taken by Cecil Dougan working for Jerry Leep Photos. Jerry was in the race driving #97, but had time to stop.
I've had several e-mails wonder if I had this photo. Well here it is. Please don't e-mail me and say it is wrong to post this. I know how terrible of a day it was, I was there, but it's part of the history the Hutch Nationals.
In the photo Aaron is already exited is car and is laying on the ground to the left. Jack is doing what he calls the leap of life from high atop his sedan bodied super.
Photo #362



Photo contributed by Freddy Gaither.
A different angle on the fire and crash. The #55 of Roy Bryant and the #5 of George Armstrong's are visible. The super in front was Aaron Madden's???
Photo #428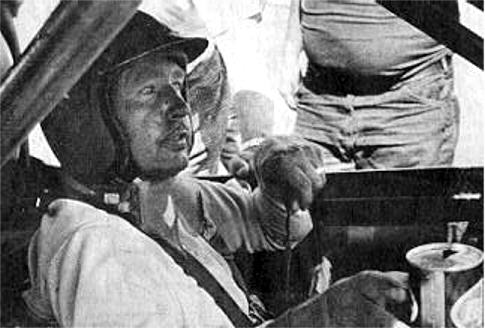 Photo from the Hutchinson News.
Jack Petty before the start of the 1974 Hutch Nationals stock car feature. Jack had set fast time the day before. Jack had won his heat race. Jack and Don Kreie raced hard for 22 laps until Jack's left rear tire blew, after contact with Kreie.
Photo #347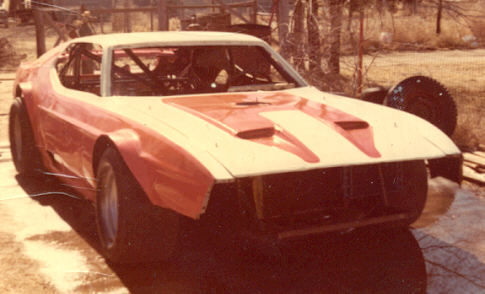 Here's the #77 before the 1974 season that Jack drove at the Hutch Nationals, and started on the pole in the late model 30 lap feature.
Photo #348
Merrick Says Dust Wasn't To Blame




Info from the July 29, 1974 Hutchinson News.

Continued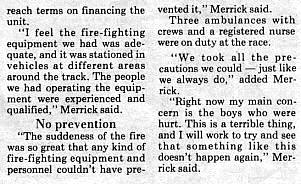 Lap #2 of The Hutchinson Nationals Fire.


For more pages check the Home Page.