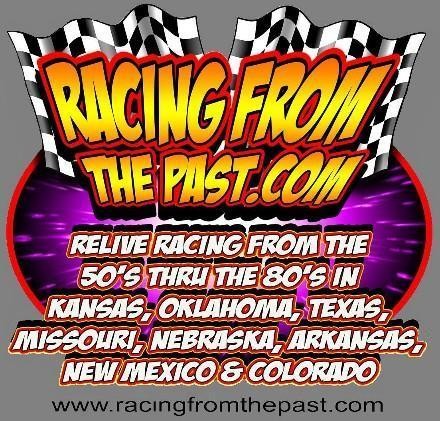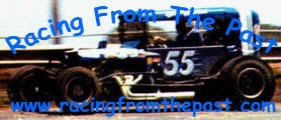 One of my (if not the 1st) logo I used.
Maybe you early viewers will remember.

Preserving the past since July of 2000

Site may be best viewed at 1024x768.

Remembering Frank Lies



In memory of one of the legends and greats of the sport and one of my favorites, Frank John "Frankie" Lies (November 19, 1926-November 8, 2006).



For all the pages here Racing From The Past return to the Home Page.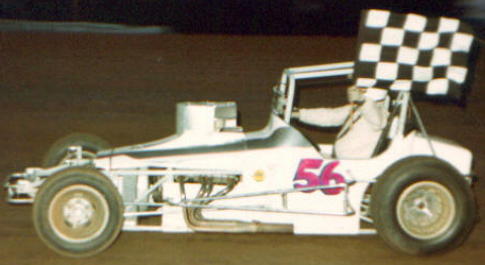 Another win for Frank Lies at 81 Speedway. Photo #5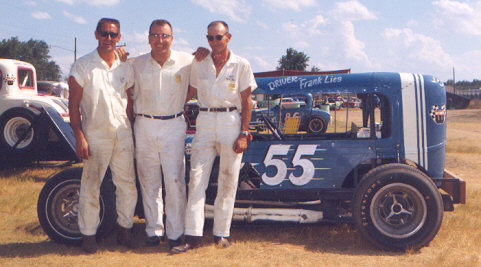 Photo by Ken Gretemen.
Frank Lies (center) and the #55 with owner Kenny Riffel (left) & pit-man Bob White. We lost Bob in a traffic accident along with Bob's wife Betty and Frank's first wife Alma 10/24/71. Photo #128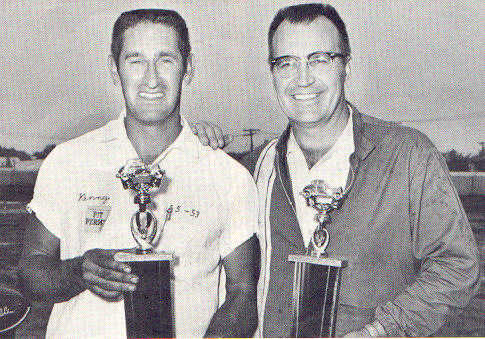 Photo from the Merrick Nationals Program.
Probably the greatest duo of the late 50's and 60's in the Kansas area. Owner of the #55, Kenny Riffel and the driver Frank "Frankie" Lies.
Photo #270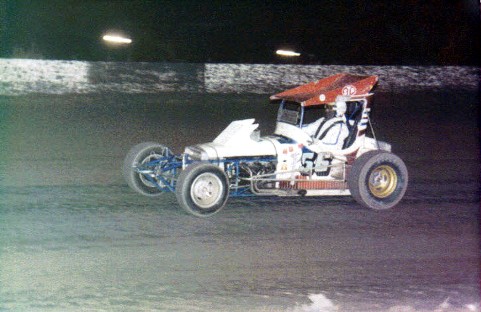 In the #56 out Wichita, 2 time NCRA Champion, it's Frank Lies. In 1979 at the age of 52 Frank won the NCRA 50 lapper at Wichita, only one of hundreds of wins over a 32 year career at that time.
Photo #4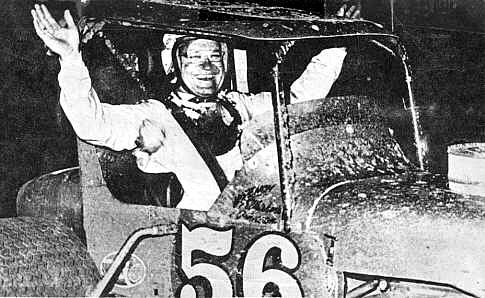 Frank Lies pulls into victory lane after winning the 1973 NCRA Race at 81 Speedway in Wichita.
Photo #368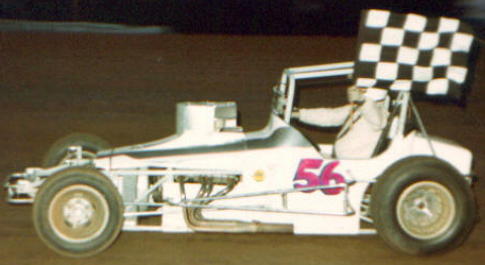 Another win for Frank Lies.
Photo #5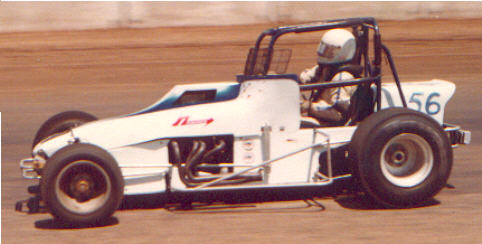 Here's Frank at the 79 Hutch Nationals, before they added a sprint tail.
Photo#6
Photo contributed by Mike Ehrlich.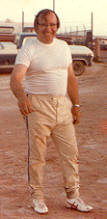 Frankie Lies
Photo #7



Wichitan Knows What It Takes To win NCRA




By Bob Stewart

"That old boy upstairs and luck." That's the way Wichitan Frank Lies describes what it will take to win the 50 lap main event tonight during the sixth annual National Championship Racing Association (NCRA) points race for super modifieds.
Lies, the defending NCRA points champion, was one of the two events last year at 81.
When asked about his chances of winning his first NCRA race of the year, Lies said, "I'd like to win it. We have as good a chance as anybody. A lot depends on the draw. We've had two bad ones (Wichita Falls, TX, and Dewey, OK) and it put us out of the show."
Continuing, He said, "Things look real good, of course barring any trouble. We've been running good at 81 and we know the track."
This season has not been good to Lies and his crew so far. Although they have been competing all year it wasn't until the Memorial Day week- end "that we got it all together" for one night.
At an NCRA event earlier this month in Lawton, OK, Lies pushed his Chevrolet powered super to fourth place, but said, "We were having carburetor problems. We've had a lot of problems with the car and when it's new, it causes new car problems," he added with a laugh.
Lies feels his knowledge of the track at 81 will also help him for the race. "We've been watching the track all year and the conditions, trying to match tires and gears to the right conditions."
Lies, who is entering his 30th year on the oval circuit, won last year's NCRA title by 10 points.
When asked why the competition was so close, he said, "There are basically three reasons. People are willing to spend money for race cars; they are seeking knowledge from everywhere, and the drivers have been developing more and more to the NCRA circuit."
Lies' main competition will come from fellow Wichitan Harold Leep, also a two-time NCRA points champion and the current NCRA points leader. Lies is third on the NCRA points lists behind Leep and Jay Woodside, also from Wichita.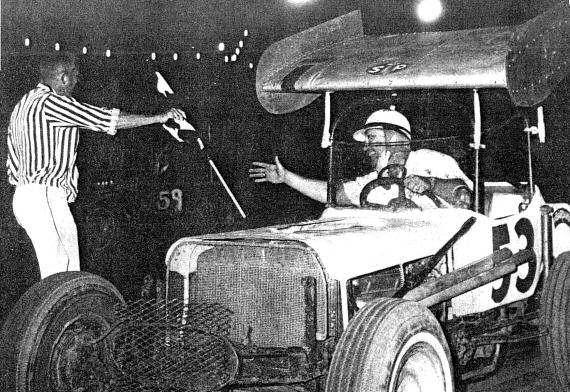 Photo contributed by Ray Cunningham
The 81 Speedway 1964 Points Champion Frankie Lies.
Photo #763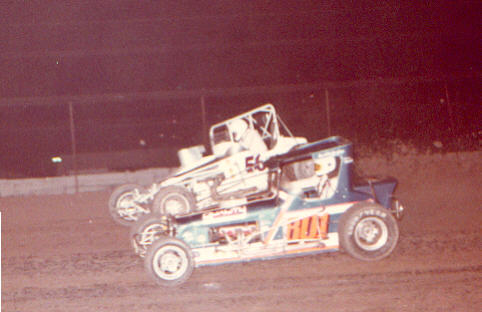 On this night victory was not in the cards, as Frank Lies #56 Wichita went for ride and flipped off 3 & 4 at 81 Speedway at the 1978 NCRA race. Darrell Jennings Norman Ok. in #801 is on the inside. They may have made a little contact, but I think Frank just started bicycling. In 1979 Frank would come back and win the main. Maybe his last big win of his long career.
Photo #206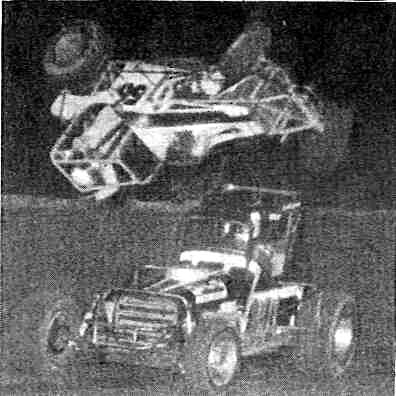 Photo contributed by Monte Cole.
The matching photo with the one above. Who would have thought after all these years. I had 3 or 4 of the flip, but one is all have found.
Photo #703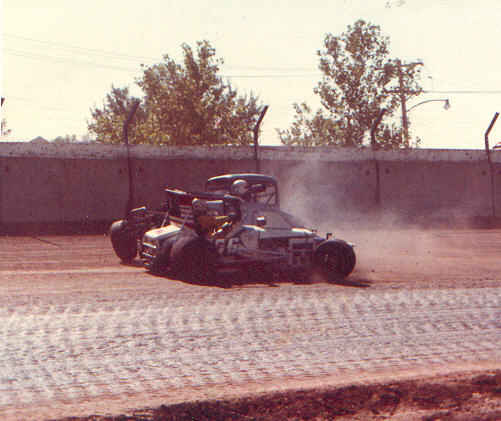 Photo #207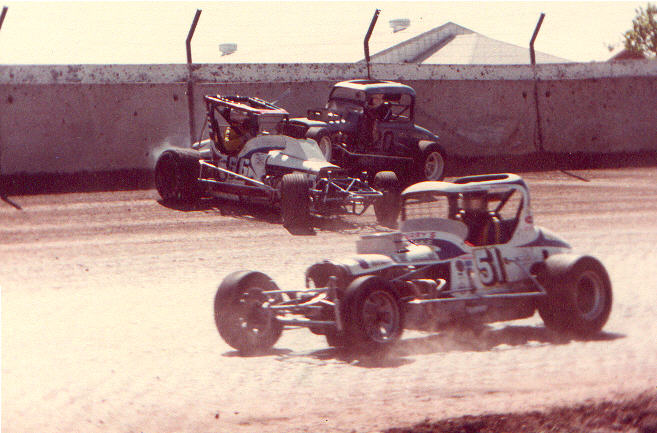 Frank Lies #56 and #20 Bob Finley from Garden City tangle, as Eldon Borger #51 Jetmore Ks. slips by in turn 1 & 2 at Hutchinson in 77 at the State Fair Races.
Photo #208




Photo contributed by Monte Cole.
Frankie Lies #55 and Benny Taylor #13 touched wheels and big Frank gets a big lift, from back in 1971.
Photo #493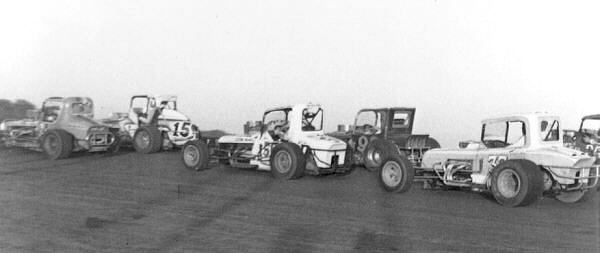 Photo Contributed by Russell Revel from the work of Jerry Leep.
A Sunday night in 1975 at 81 Speedway. From L to R, #4 Grady Wade, #15 Herb Copeland, #56 Frankie Lies, #98 Walt McWhorter, #37 Roy Bryant.
Photo #1020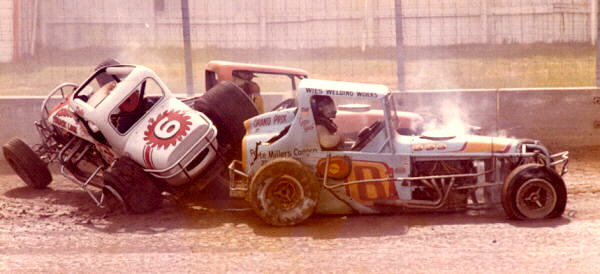 Photo Contributed by Russell Revel from the work of Jerry Leep.
George Armstrong #8, Dale Reed #6 and Frank Lies #56 have had a serious contact at Hutch in 73.
Photo #1022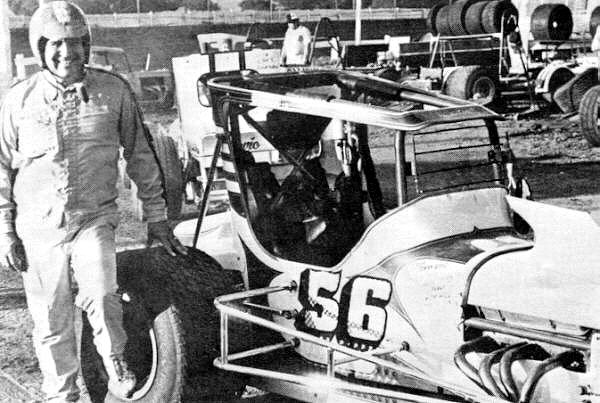 Photo Contributed by Russell Revel from his collection of 81 Speedway Programs.
Frankie Lies poises with the #56 back in 1977 at 81 Speedway.
Photo #1040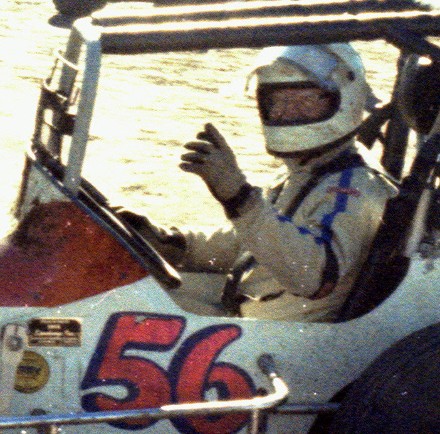 Photo from collection of Rusty Manning
Frankie Lies with a little wave to Rusty.
Photo #1151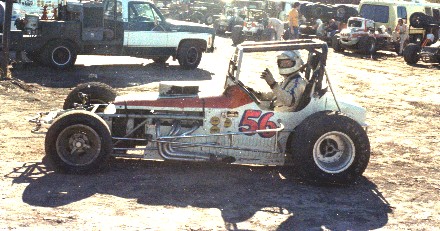 From the collection of Rusty Manning
Frank with another wave to the camera as he fires the #56 up and heads out.
Photo 1154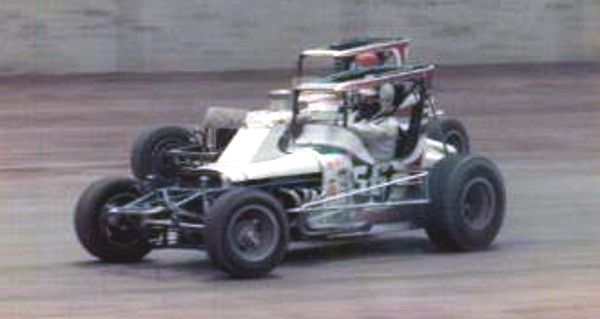 Photo contributed and taken by Mike Howard
Two masters of the Kansas State Fairgrounds 1/2 Mile. Frank Lies #56 on the inside of Harold Leep #76. This is probably from 1977.

Note from Warren: This was the first heat race. Fred Hembree would win. Harold would blow an engine. Frank blew his engine crossing the finish line for 2nd. Frank's crew acutally changed an engine but time just wouldn't let them get the timing set right. He fell in line as the cars in A Main were going down the backstretch getting ready for the green. He only lasted a couple of laps.
Photo #1227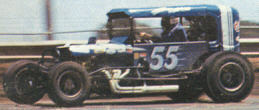 The Frank Lies and Kenny Riffel team were almost unbeatable in the blue 55. They were a team Starting in 1958. They campaigned it through the 60's and very early 70's. They retired the famous blue 55 in the middle of the 72 season. Then in the 73 & 74 season Kenny Riffel and Roy Bryant teamed up. The car was involved in the tragic fire at Hutchinson. Jerry Leep's famous photo's show the front end stucking in toward the fire. After that season it showed up at the Hutchinson Nationals once with a late model driver Marvin Bradford or Alan Combs driving it. Then low and behold Dennis Everhart showed up at the Hutch Nationals in 77 or 78? Is this car still around in somebodies garage or shed or out in the weeds somewhere?
Photo #185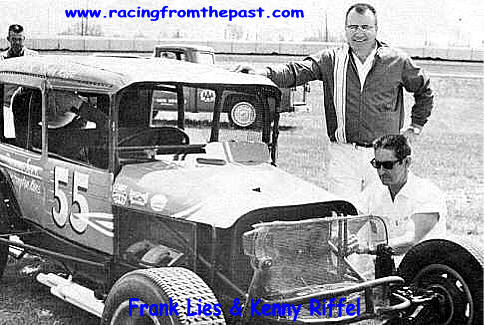 The greatest team of the 60's, and my favorite. The great Frank Lies from Wichita KS, and the great owner of the famous #55 Kenny Riffel of Herrington KS. This team won the Nationals three years in 1957 (Oklahoma City), 1958, and 1968.
Photo #282

In the following photos remember Frank is the car #56 closest to the fence. These photos are of the 1974 Hutchinson Nationals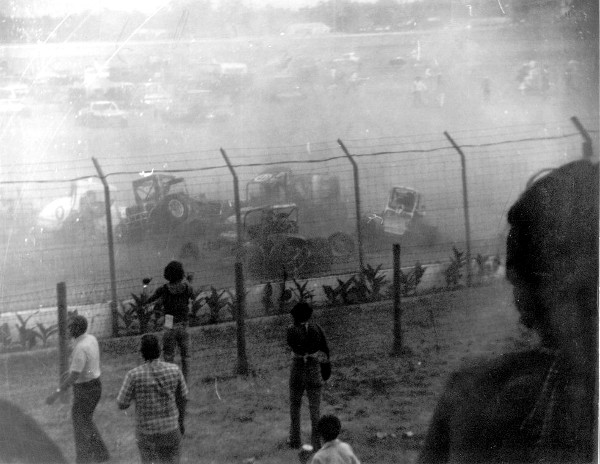 Taken by Jeff Nichols and contributed by Ed Barlett.
In this photo the cars that are visible and known to me are The #55 of Roy Bryant, #5 George Armstrong (with the white tail and in front), #56 Frank Lies (front and center), #90 Johnny Boe (in the center with white circle on the roof), #01 Aaron Madden (in the white car on the inside with sprint tail), The super with the rear end in the air I'm not sure about? After looking at photos from 1974 it could be Fred Hembree #79. "Fast" Fred did have a deep purple super that year. In the black and white photo it shows up in a dark color.
Photo #2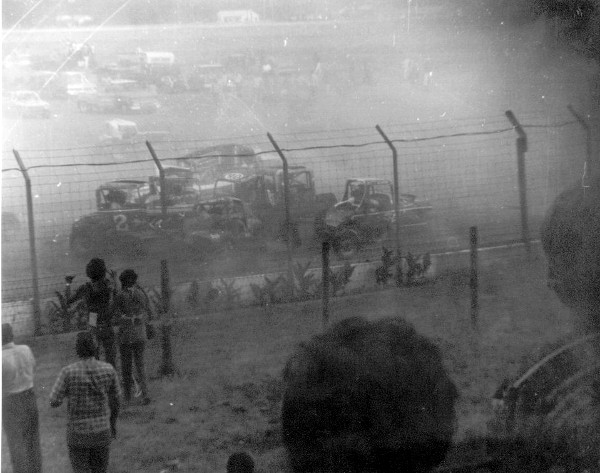 Taken by Jeff Nichols and contributed by Ed Barlett.

Cars in this shot that have piled into the wreck now and that are visible are #2 Ray Riner, #96 of Jack Petty his sedan bodied car is center and up in the air some.

Who is the car way in the infield to miss the wreck. I don't recall anyone getting run over.

Photo #3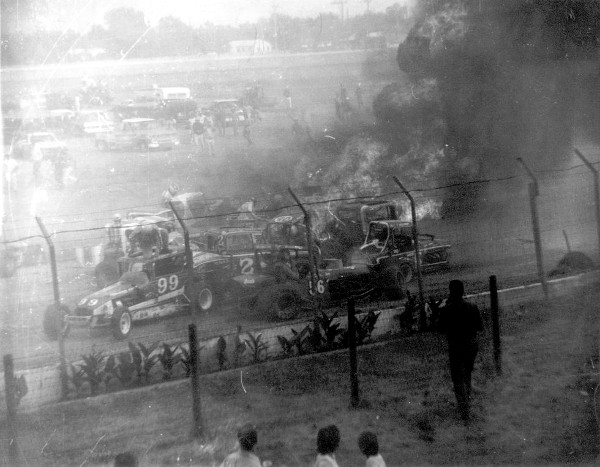 Taken by Jeff Nichols and contributed by Ed Barlett.

Now we add a #99 of Lonnie Snowden and #20 of Wayne Wiseley's (or maybe Al Lemmons was driving it, it seems they may have switch cars or didn't come back from Tulsa the night before with both cars) right behind the #99 and two or three others toward the inside of the track.

The car to far side of the crash where a driver is getting out of is either the #29 of Harold Lloyd Leep or the 11x of D.E. Suggs. Suggs car might have been red, white and blue which explains the helmet on the driver getting out. Leep's car also was completely destroyed. I had also heard the fuel cell was still full after the fire on Harold's car???

Johnny Boe is just exiting from his car. His car is almost in the middle next to Jack Petty's

I believe the driver climbing out of the top of his car (next to #90) is the same one in Photo 2 with the rear end in the air.

In this photo you can also see Buck Cadwell's #07 straight back of the #20. I know this because Buck's car had the blue stripe from front to back and that is visible on the top.
Buck's 07 would race later in the season. I don't know if it was the same car or not. So it may have been towed out?

What car is the dark colored roof with the white trim around the edge??

What car is the one to the left that appears to get stopped?? It appears in Photo 4, 6 and is still setting in 8.
Photo #4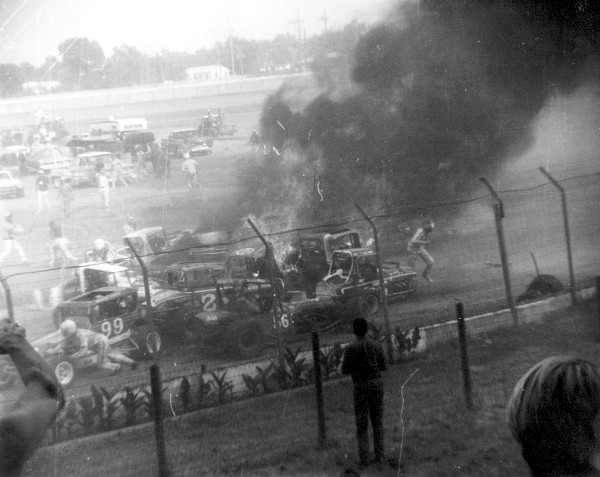 Taken by Jeff Nichols and contributed by Ed Barlett.

Lonnie pushes his car away from the crash by himself!

Another driver behind the #20 is climbing out. This may have been Harold Lloyd Leep in the #29.
Photo #5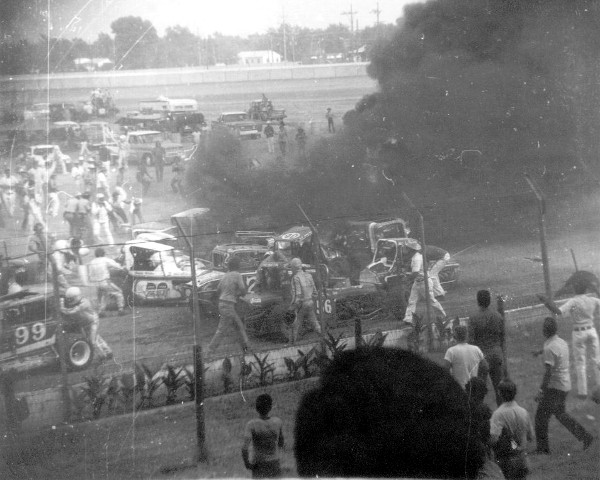 Taken by Jeff Nichols and contributed by Ed Barlett.
In this photo it appears the flames have been knock down. This is probably about the same time all the portable fire ext. were used up.

George Armstrong is still in his super knocked-out.

Photo #6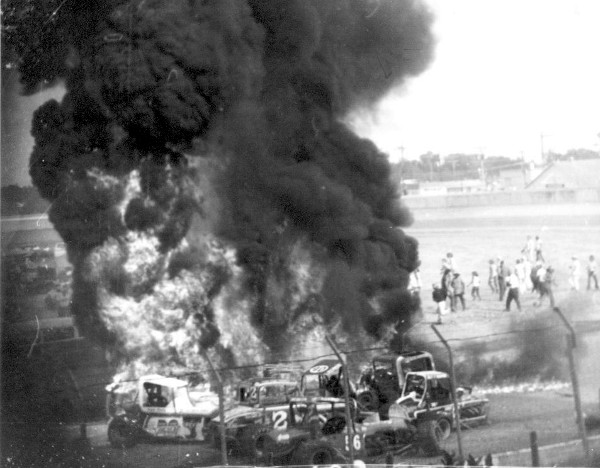 Taken by Jeff Nichols and contributed by Ed Barlett.
Photo #7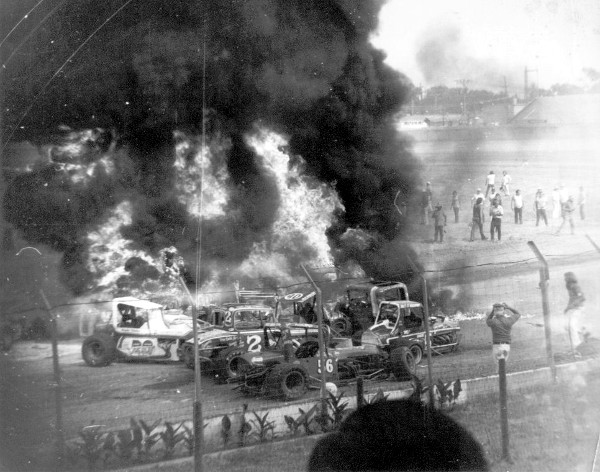 Taken by Jeff Nichols and contributed by Ed Barlett.
Shortly after this photo is when wreckers towed the #55, #56 and maybe the #2 out of the away? but the fire kept blazing.

Cars involved according to newspapers accounts were: Madden 01, Petty 96x, Soderberg 91, Leep 29x, D.E. Suggs 11x, Boe 90, Buck Cadwell 07, Fred Hembree 79??, Frank Lies 56, Roy Bryant 55, Dutch ter Steege 7, Al Lemmons 20 or 19?, Jay Woodside?,

The problem with the newspaper accounts is Lonnie Snowden is not listed.

Also interesting in the 8 photos is: George Armstrong's car appears to have not been hit at all after it came to rest minus the front end??

Just for the record the supers heat races etc. 1st heat: 1.Scott Carson, Oklahoma City, 2.Gene See 3.Dutch ter Steege. 2nd heat: 1. Larry Dewell, 2.D.E. Suggs, 3. Aaron Madden 3rd heat: 1. Jim Harkness, 2. Jon Johnson, 3. Grady Wade. The Trophy Dash was won by Larry Dewell. No B-main or consolation race was run, just one big feature.

If you can ad to any of this please feel free to e-mail Racing From The Past or Ed.
Photo #8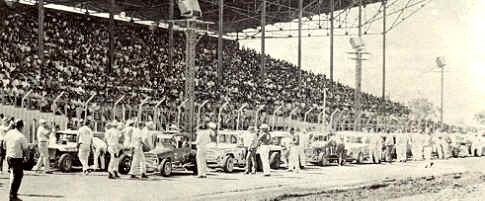 Photo from the 1970 Hutchinson Nationals Program.
The lineup for the 1967 Hutch Nationals. Davey Ross set fast time and is on the pole with Frankie Lies on the outside. Harold Leep would go on to win from the inside of role 4 in the Nance #11. This is a good shot of the big crowds back then. Other cars visible to me are the #88 Don Spreier, #86 Jay Schrock,
Photo #313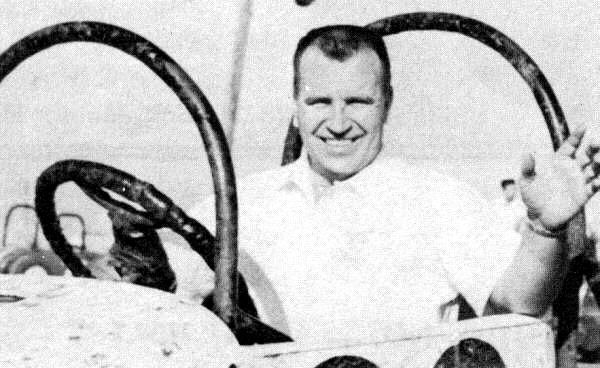 1961 Hutch Nationals Program
Frankie Lies from 1960.
Photo #601

Racing From The Past Forum/Message Board
Use the forum to advertise, buy sell or trade etc. Promote your up coming vintage events. Talk about old racers, owners, races, cars, tracks, and organizations and post your own photos from your collection.



For all the pages here Racing From The Past return to the Home Page.